Abundant skill building with Dice
We all have a favorite something
Some have a favorite color. A favorite pair of socks. Or a favorite Girl Scout cookie. 🙂 There's even a preference of writing utensils among my colleagues—blue gel, black ball point, or purple flair pen.
In the world of occupational therapy there are millions of toys, games, and equipment, one can use to build a variety of skills. With so many choices you'd think that choosing just one would be impossible. But not for me! I can tell you in less than a nanosecond the most versatile and engaging item from my OT toolbox.
Do you have a guess? A hunch? An inkling? I know what you're thinking…I'll give you a hint…you probably have many of them in drawers or boxes around your house.
Are you thinking it's a tennis ball? Clothespins? Or stickers? Nope. Nope. And nope! Maybe tongs? Pennies? Shaving cream? Still no! While, I could easily incorporate all of those into almost any activity, I don't love them as much as I love the versatility of a simple, six-sided D…I…E! A single die or even a pair of DICE.
My favorite everyday item is a DIE!
Can you believe it? They are awesome! So awesome in fact, that I can never pass one up when I see it in a store. Sooooo…as you can imagine, I have quite the collection! They come in so many shapes, sizes, and colors which makes them fun and versatile. See… 🙂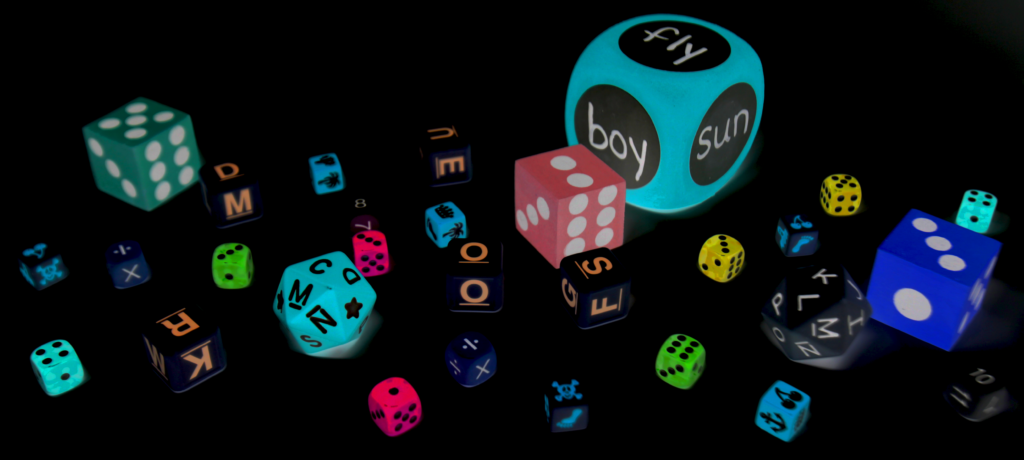 I use them to build fine motor skills, visual discrimination, sequencing, grading of force, sustained attention, and on and on and on!
So what exactly do I do with them, you ask?
Shake 'em!
Shake 'em, shake 'em, shake 'em! In a cupped hand, of course! Yes, the cupped part is very important. Holding dice in this way helps build the palmar arches of the hand.
Palmar arches, what?! Don't get too put off by the lingo, that's just scientific term referencing a WHOLE BUNCH of small muscles in the hand. Twenty to be exact! which are called the intrinsic muscles. These need to be used, developed, and strengthened regularly for success in everyday tasks such as holding a spoon, opening a door, and pouring from a bottle.
To help my little ones develop these V.I.M. (very important muscles) I often challenge them to hold 2 cupped hands together and shake 'em to make the dice "jump around, jump around, jump up, jump up, and get down!" without jumping out. (Hopefully you enjoy or start to humor me re: my obsession with musical puns!)
Move 'em!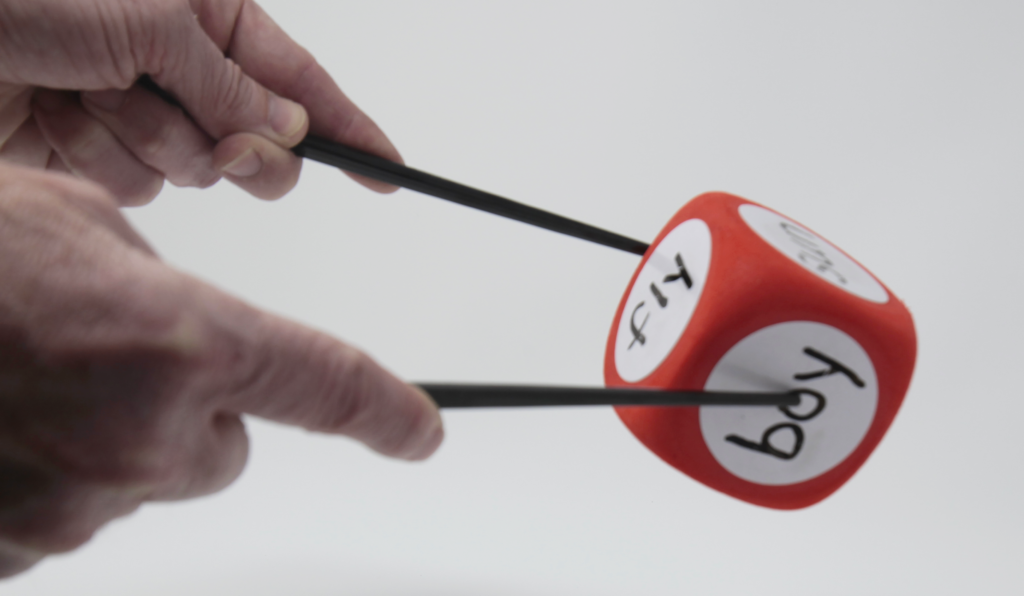 As I said, they come in many sizes. A mid-sized dice can be used to challenge a child's motor planning such as "how can you move this die from A to B using chopsticks or anything BUT your hands (forearm, elbows, chin?)! This mid-sized die is a dry-erase cube so the possibilities are literally endless (ex: animal walks, multiplication facts, weekly spelling lists, etc.). Kids just get a kick out of rolling it, often as far as their little hands will take it, then racing over to see what side landed up!
Roll 'em!
These dice with clear pockets are fantastic! It's an easy way for me to build in sensorimotor activities that promote self-regulation, core strength, shoulder stability, and more.  They've also been a lifesaver for my kiddos that need regular sensory breaks within the classroom.  They find them to be a fun, unpredictable, and engaging pause between all of their typically challenging academics or perceived mundane tasks. I also love that it's so easy to slide in any movement activities, simple class errands, or household chores (ex: 8 jumping jacks, bring the books back to the library, pick up the play room, etc.) into the clear pockets.
Throw 'em!
Then there is this jumbo one (from IKEA), is so fun! The kids love its large size and colors. And I love that it offers them a variety of ways to pick it up and manipulate it. I encourage my kids to do a full, soccer-style throw-in when "rolling" it as a way to build in upper extremity range of motion and bilateral coordination.
Kids also have multiple options for holding it such as compressed between their hands or using a lateral pinch on the seams. After rolling the die, I usually have a child do X number of repetitions for a gross motor activity (ex: frog jumps, donkey kicks, hang from the trapeze for 'x' seconds) or fine motor (ex: feeding the monkey 'x' bananas with tongs) activities. This can target any skill building you're hoping to address.
I'm sad to say, I haven't see this one at the store recently but these ones from Amazon are a close match.
Write with 'em! – well not literally…
Finally, my favorite of the favorites!! Drumroll, please…The *Scattegories* DIE. I know, I know…I said I loved the simple six-sided die but how amazingly epic is this thing? I've been on OT for 11 years and am still coming up with new ways to use this one. It can be as simple as writing the uppercase letter formation they see on the die, playing a fun game I like to call "brain switch" to mentally convert the uppercase letter on the die into the lowercase form and write it down, making a list of the kids in their class that start with that letter OR simply writing any and all words they can think of that start with the letter rolled! It's a very stealth way to build in the daunting task of handwriting that so many kids who struggle with it dread.

No dice, no problem!
If you don't have the same extensive dice collection as me to reap the abundant skill-building benefits of dice, NO WORRIES! A simple, generic 6-sided die will do. You can likely borrow one from any of the games sitting on your shelf.
Or you simply don't have one but are feeling a bit crafty, head over to this post How to D.I.Y. Dice to make your very own!
Also, if you're looking for some new games for your kids and family, go check out my post, 15 Family Favorite DICE Games.
Or if you'd like other fine motor activities altogether check out my 101 Fun and Simple Fine Motor Activities by Age printable.
There can and often should be lots of purpose behind play. So next time you pull out a game with dice, think about how you can be a little more intentional with how your child is holding and manipulating them. See if you can help them build up those V.I.M. that are so necessary throughout life.
This blog contains affiliate links for products and activities I love and want to share with you. I may receive commissions on any purchases you make through the links. Please read my disclosure policy for more details.