7 questions answered about WooTape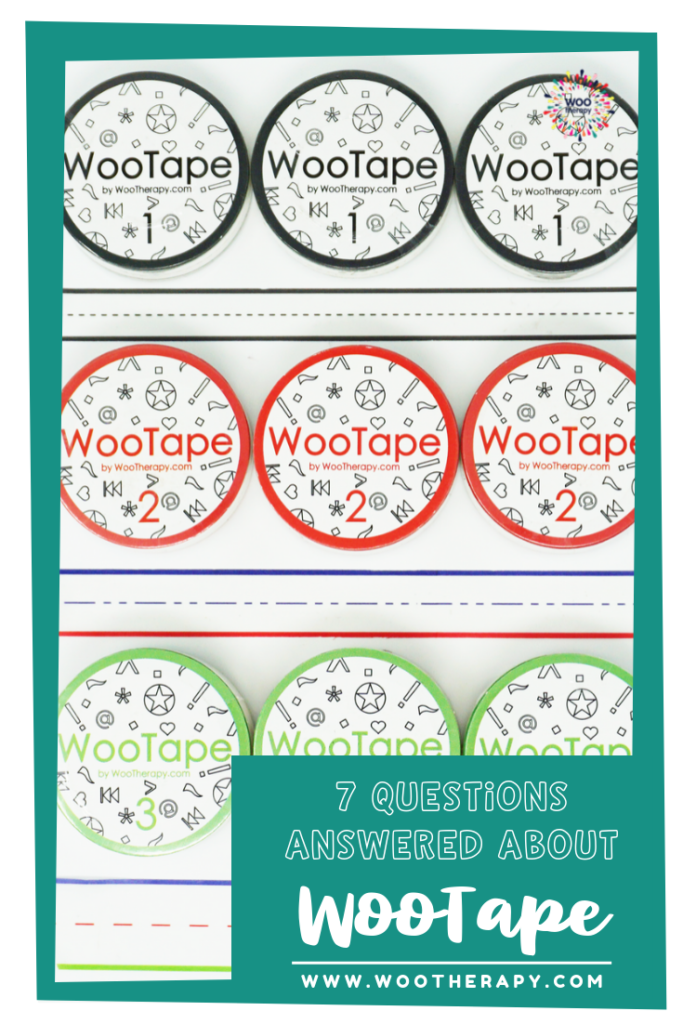 Whether you're the parent or teacher making the comments, or the OT listening; these handwriting concerns seem to play on repeat.
"He writes too big"
"She can't get her letters to sit on the line, they're all over the place"
"They still make uppercase letters in the middle of their words"
Gosh, these struggles are difficult to hear over and over! Especially when you're the therapist who has been tirelessly working to remediate them.
Thank goodness for WooTape to support all things sizing, placement, and proportion when it comes to handwriting!
WooTape is the therapeutic handwriting tape that allows parents, teachers, and therapists to accommodate any worksheet or activity in the moment by simply peeling, tearing, and applying the tape to any paper or surface.
2. Why is using WooTape better than writing/applying other lines or using adapted paper?
WooTape can be applied to nearly any surface—a craft, a wall, a window, a sketchbook, sandpaper, etc. This means you can vary the surface plane to target different muscle groups (ex: vertical surface). You can also place it over a variety of textured surfaces to increase the amount of tactile feedback received during writing tasks as you work on letter formation
WooTape provides color-coded visual boundaries similar to paper a student might already be using in their therapeutic setting; increasing their ability to generalize their skills in other environments
WooTape saves the teacher, OT and paraprofessional time from hand drawing all the lines in order to accommodate every worksheet
WooTape is fast
WooTape is easy (I'm even teaching some of my 3rd+ grade students to keep it in their desk and apply it themselves)
WooTape is writable and erasable
WooTape is removable AND repositionable!!
You don't need to use additional sheets of paper that could get lost
WooTape seamlessly blends in with what the rest of the class is doing so the child doesn't feel singled out
Do you need any more reasons?!
3. Does WooTape provide tactile feedback?
YES! While the tape does not have raised lines, the slight thickness of the tape provides a resistive quality while writing on it, and a "bump" off the tape if a child pulls their pencil beyond the edge of the tape, letting them know their letter is no longer "sitting on the line."
4. Can WooTape only be used with pencil?
No. WooTape is so versatile it can be used with pens, colored pencil, markers, crayons, sharpies, and more. It is highly recommendation to use pencil since it is fully erasable it allows children to correct their mistakes. Also, see the answer above…the tactile feedback is greater with pencil than other writing tools.
5. Can I use WooTape with a Kindergartener and a 6th grader?
Most definitely! WooTape currently comes in 3 designs/sizes (more in the works).
WooTape 1 (3/8" writing space) is designed for slightly older children who are capable of writing smaller but continue to require the dashed midline to maintain their proportions and a baseline to improve alignment.
**This is critical for those half-page essay questions that just leave a blank space!!!**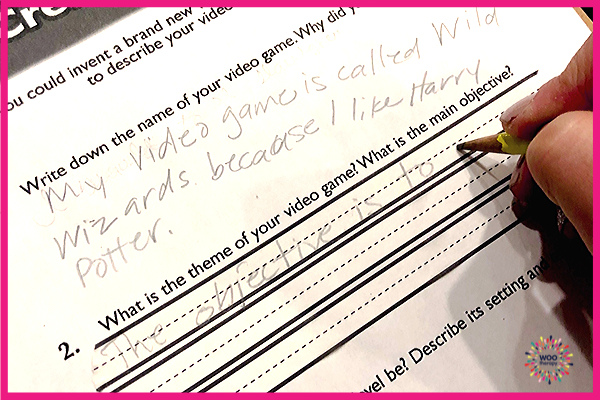 WooTape 2 (1/2" writing space) assists children who have more difficulty with placement so the bold, red baseline draws their visual attention to where they need to bring their pencil before they lift it and start the next letter.
WooTape 3 (slightly bigger than 5/8" writing space) is intended for kiddos learning about sizing and spatial awareness. They require the colored visuals of each line to appropriately size their letters as well as support them with the concept and analogy of uppercase and tall letters "touching the sky" (blue headline), most letters walking or sitting on the grass (green baseline), while some letters are digging under the grass.
WooTape 4 (1/2″ writing space) offers the highest level of visual boundaries. The lower half is highlighted yellow to increase visual perceptual needs to assist with letter proportions. Additionally, there are thin, black, vertical lines to improve spacing between letters and words.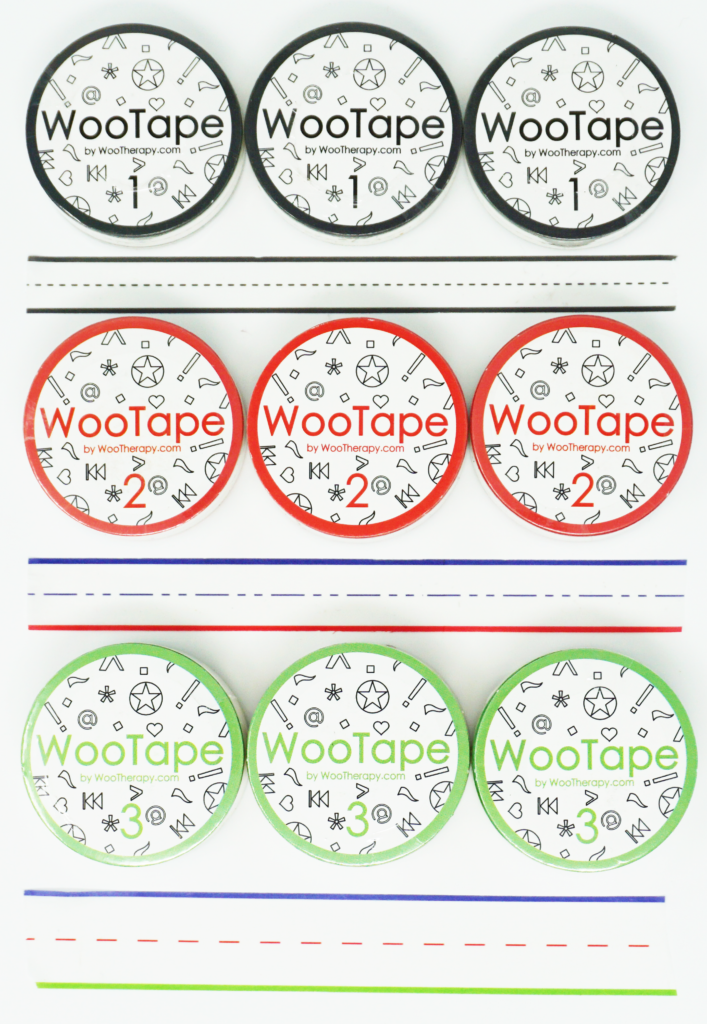 6. Do I need to order more than one roll of WooTape?
Yes. The kiddo or kiddos you are going to implement this with will need more than one roll.
Why, you ask? Because the whole point of creating WooTape was for the child to more efficiently generalize their skills into environments that were different from the controlled therapy environment.
They will need a roll in the classroom, a roll at home, a roll at their after-school program or where they complete their homework.
They have to know that the expectation for their writing is the same in every setting and they must trust that their supports and accommodations will be the same in each setting.
Makes sense, right?
WooTape is a tool that is small, effective, and inexpensive that will transform the consistency, success, and confidence of the child who is given the opportunity to use it.
As a parent, the MegaMix Bundle is great for this because it allows you to figure out what level of visual supports your child requires. And it also prepares you for the moment the child refines their skills through repetition and becomes ready for a smaller line-height with fewer cues.
As a teacher, the MegaMix Bundle is awesome because every classroom has a range of ability levels as well as growth throughout the school year.
If you find you don't end up using one size, gift it to a teacher who is at their wits end with some of the students writing or your school's OT (who you probably only see every other Thursday because of their demanding and chaotic schedule). They will immediately see the value in it and be beyond appreciative!
7. What's the story behind how & why WooTape was created?
If you recall the frequent concerns I was getting about large sizing, poor proportions, and difficulty with letter placement, I always ask for teachers to provide me handwriting samples so I can see what they see.
Almost always, I try to catch my eyeballs before they roll out of my head, because within seconds, I can spot 90% of the problem:
THERE ARE NO VISUAL BOUNDARIES!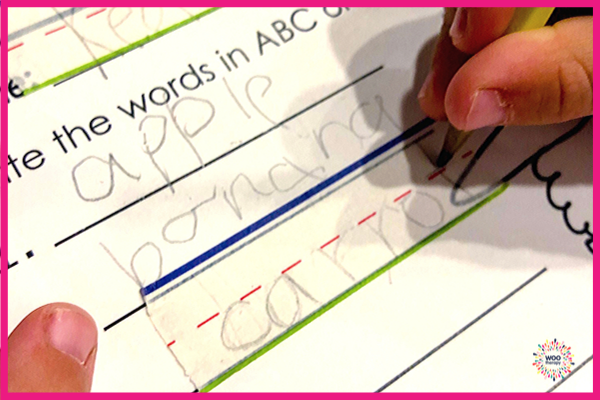 What a travesty to see these children struggle so deeply within the classroom and the teachers build up unnecessary frustration over something they (the teachers) are 100% in control of.
So about 2 years ago, this was happening so frequently that I could recognize myself becoming annoyed at these constant requests.
But I soon digested the fact that not everyone thinks like an OT. So, I just spent a lot of time educating and continually reminding them, "this student needs a headline to cue his eyes into writing smaller," "she would benefit from a bolded baseline to keep her letters aligned," "he requires a dashed midline to understand and remind himself that not all letters touch the top and bottom line."
I checked in frequently to ensure my recommendations were being implemented, but most of the teachers were too overwhelmed as it was, so making the discussed accommodations wasn't a top priority or something they even had time for.
I felt a little deflated because my main objective was and always will be to create success and independence for each child while minimizing parent/teacher frustrations.
But my reminders were clearly not enough.
It was especially difficult when the students I worked with directly confidently and consistently demonstrated all the expected handwriting skills with accuracy in the therapeutic setting; only to head back to the classroom for things to fall apart.
A recipe for disaster!
But, I mean…it makes total sense, right?
Going from a small, sensory-optimal environment receiving 1 to 1 adult support & encouragement with repetitive opportunities to practice, observe, and gain feedback in the areas of deficit to then transitioning back into a noisy, (likely) visually distracting classroom with minimal guidance, reduced prompts and different materials that lacked the necessary visual cues required…
I racked my brain. There has to be a better way.
How can I make this easier for them; the kids, the teachers, and let's be honest, me! Because feeling like my recommendations were falling on deaf ears was beyond discouraging.
Necessity is the mother of invention! –Plato
That's when it hit me, I have to make it quick and easy for them to adapt the papers to meet each child's needs.
It has to be something that provides visual boundaries without having to stop a lesson or make the child feel singled out.
Eureka! And WooTape was created. I'm so thrilled at the feedback I'm getting. Most teachers (special and general education alike) can't believe they lived so long without WooTape.
I mean talk about a compliment!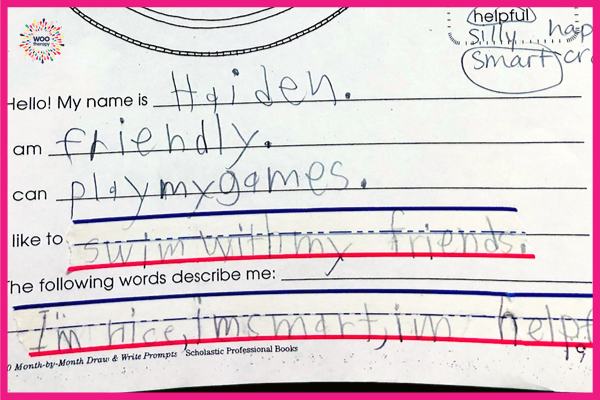 Anyway…I hope that answered most of your questions about WooTape! But if not, please leave me a comment!
If you'd like to see a video of WooTape and some before & after writing samples head here. This is also the link where you can purchase if you know you can't go another day without the help of some WooTape.
---
Check out this article from Miss Jaime OT about 6 Ways to Use WooTape