Working on a vertical surface is one of the best activities children can do to make themselves more successful in many areas. I believe it's the equivalent of Tummy Time as an infant which builds all those foundational skills required for the all-important task of handwriting. Check out all the = areas it targets.
Core Strengthening
There's a FAMOUS phrase in OT school…"Proximal stability leads to distal mobility." I'm sure I'll share that a million more times during the life of this blog.
But in general terms, it means one must be strong/solid at the core in order to be skilled/precise at the extremities.
Think about it:
Would a fine arts painter be able to create masterpieces if they had to lay down or lean on something during the entire process?
How many words per minute could a court reporter type if she couldn't sit upright for extended periods of time?
How many turns could a ballerina complete with a weak core?
Could a soccer player trick their opponents with fancy footwork if they didn't have amazing trunk control?
All these people are successful at what they do because they have a solid foundation!
When working on a vertical surface, a child is likely standing, kneeling, or slightly leaning forward which requires them to activate their trunk for the duration of the task. The longer the tasks, the more strength and endurance they can build.
Shoulder Stability
The next building block one needs after a solid core is shoulder stability. A stable shoulder girdle is the co-contraction of muscles around the scapula and shoulder joint.
Depending on the activity, vertical surfaces will have kids moving their arms frequently; reaching up, down, out and around. This supports extension of the arm and an opportunity to strengthen those muscles.
Forearm Stabilization
Because it can be such a challenge to keep large muscle groups active against gravity, some kids wise up and rest their forearm on the wall/window/easel. This is completely okay.
It is still strengthening the core and shoulder (maybe on a bit lesser scale) but now it is training the child to recognize muscular fatigue leading to forearm stabilization. Hopefully, they recognize they are better able to control the crayon/marker/pencil when their large muscle groups are stabilized. Plus it leads into some awesome wrist extension.
Wrist Extension
Vertical surfaces facilitate wrist extension. When the wrist is extended, the ring and pinky finger tend to naturally find their way into the palm creating a more optimal grasp pattern. A child is going to be able to execute more precise and legible work when using a functional tripod or quadrupod grasp.
Spatial Awareness
Working on a vertical surface helps kids make sense of directional terms, specifically up and down because it provides the appropriate context and proper plane for them to comprehend; as opposed to learning it on a worksheet that is completed on a horizontal plane. This is critical for little ones to correctly learn and understand from an early age.
Bilateral Coordination
I like making kiddos responsible for holding a coloring page, word search, or other worksheet activity while they complete it against the wall. It forces them to incorporate their other hand as a stabilizer which is something many struggle to do even when working on a horizontal plane (eg: table, desk). Increased practice with this will improve awareness throughout all opportunities.
Midline Crossing
So many people have converted playroom walls to chalkboards or provide large pieces of butcher paper for kids to draw on. I love that! If you have that opportunity, try encouraging them to draw "life-size" scenes such as a rainbow, house, or playground that will require them to perform large arm movements that require midline crossing. If they have trouble with the creative/artistic side of things but you recognize this is a skill they could use practice with, try drawing a large sideways 8 (aka Lazy 8) and have them trace over it with a finger, different colored crayons, a pompom in their pincer, or even holding a stick as they follow the infinity symbol.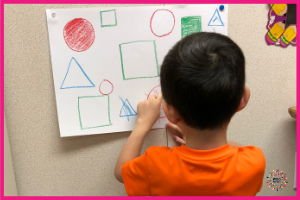 Fine Motor Skills
I think it's clear that working on a vertical surface addresses so many foundational skills that it can naturally and ultimately lead to more success with fine motor skills. Will your child be a calligraphy artist if s/he strictly works on a vertical surface? Not necessarily, but with enough repetition, you should observe a noticeable difference in their skills.
Fun and simple activities on a vertical surface:
Coloring on all surfaces (inside and out) of big boxes
Reuseable stickers aka window clings on a large sliding glass door (HOUSE FAVORITE!)
Stickers on construction paper
Tracing their hand
Tactile feedback from textured walls
Contact paper (taped up with sticky side out to pluck off craft pompom balls)
Old school Lite Brite
Glow board positioned vertically
Activity walls
Using a slant board
Foam shapes/letters on bathtub wall
Bath paints or foam (fingers or paintbrushes)
Squirting/wiping/squeegee-ing windows
Vertical playground puzzles/games
Velcro alphabet or math flashcards
Chalk on an exterior wall
Erasing a whiteboard or chalkboard
Using a sponge to wash the car
Painting the fence
I hope you've gotten a SOLID understanding of the awesome skill-building working on a vertical surface provides as well as some ideas on how to get your little one engaged in vertical surface play.
This blog contains affiliate links for products and activities I love and want to share with you. I may receive a small commission on any purchases you make through the links. Please read my disclosure policy for more details.
---
101 Fun & Simple Fine Motor Activities by Age
25 Proprioceptive Activities for Kids