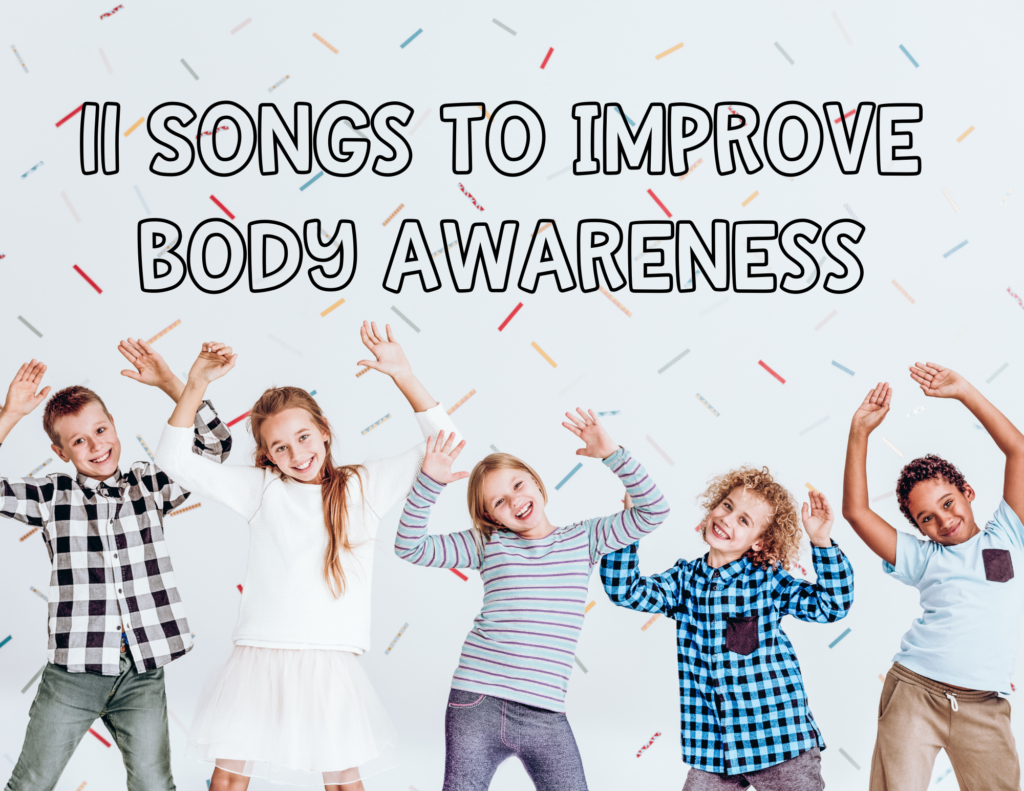 Movement and action songs are some of the easiest ways to help children identify body parts and work on laterality (left vs. right).
Check out these 11 songs to Improve Body Awareness
1. Head, Shoulders, Knees, and Toes
Yeah, it's basic but it hits all the fundamentals. And I personally, LOVE it because it offers repetitive opportunities for vestibular movement which is great for balance and equilibrium reactions.
2. Tooty Ta
This one helps identify some more unique body parts like thumbs, elbows, and knees. It's been known to get a lot of giggles too!
A popular one when I was a kid, The Skeleton Dance progressively tells us what body part is connected to the next from the foot all the way to the head.
4. Parts of the Body Song
Pretty self-explanatory title to improve body awareness…
If I had a favorite on this list it would have to be this one because you know I'm adamant about pointer fingers and strong finger isolations. Click here if you don't know what I'm talking about.
6. The Hokey Pokey
A classic movement songs to improve body awareness for any classroom that incorporates many prepositions.
7. Move Dance Song
The modern-day Hokey Pokey giving directions on where and how to move that improves laterality along with body awareness.
If you like to use props in the classroom, this song is a fun one. The kids use a small plastic spider to move it all along their bodies until it finally jumps down to the floor.
9. We Like Peanut Butter
This song is okay, even for those with the most severe allergies 😉 But seriously, it's incredibly upbeat and silly as you sing about what body or piece of clothing the peanut butter lands on. FYI-it does say "on our underwear" in case your class will think that's too silly.
10. There's a Wiggle in My Toe
And that darn wiggle works its way through many different body parts and is a perfect song to improve body awareness.
11. Wobbly Man
This is a Koo Koo Kanga Roo song that most older kids love! This song tells you to inflate and deflate like those funky "wobbly men" at the car dealership. It also instructs everyone to wobble their eyes, tongue, etc. I'm always a little careful with some of these "brain breaks" for older kids as the increased amount of input and pace of the song because they can have the reverse desired effect and often lead to OVERSTIMULATION. Be warned 🙂
Check this blog about other ways to Improve Body Awareness in the Classroom