OT for Me Box is an innovative subscription-based company founded by 2 pediatric/school-based occupational therapists, Christine and Mikkayla, from Minnesota. They take their love for child-centered therapy and create curated monthly boxes to target a range of skill areas. That is why their participation in this Motor Box Challenge was so exciting.
You can check them out at otformebox.com or check out their Facebook or Instagram pages @OTforMe.box.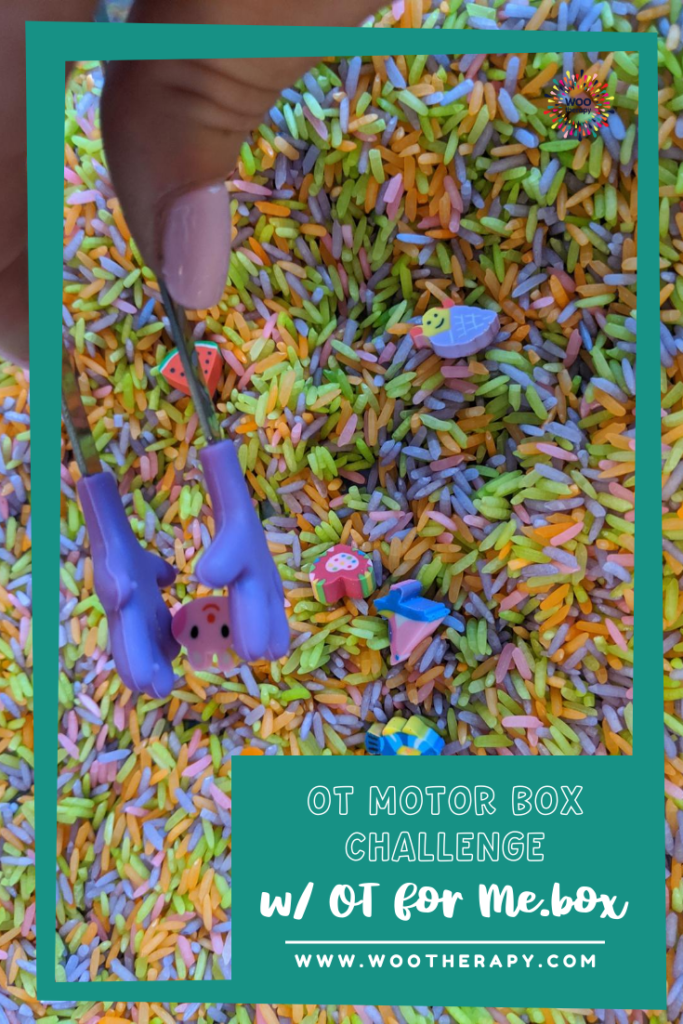 OT for Me Box Challenge Items
Exercise ball walks outs to retrieve small manipulatives
Ball blasts with exercise ball, (lay in supine propped up on forearms and kick the ball)
Exercise ball "steam rollers" for prop input.
Exercise ball sit ups
Exercise ball roll ups from the ground to the top of wall and down

Racketball and string for ocular motor movements, while standing on wiggle ball, bat between hands to a beat.
Racketball bounce and drops to a beat

Chalk for infinity walks
Chalk for sensory-motor paths
Chalk for handwriting!
Animal walk to the sensory bin, (pick out the colors the OT told you to in order at the starting line).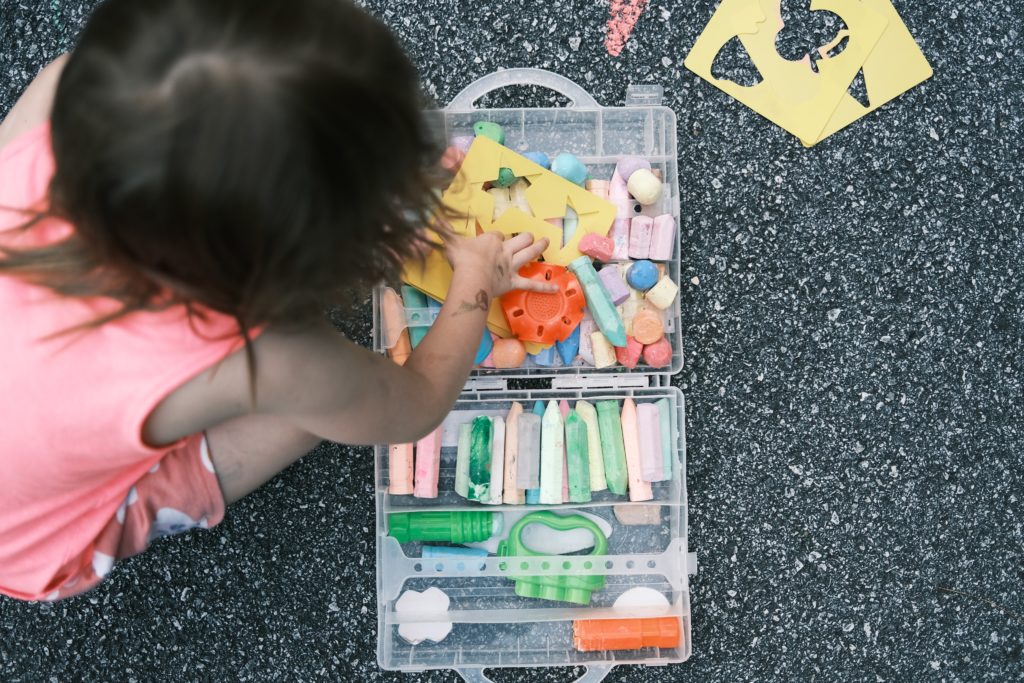 Theraband for gross motor exercises
Underneath a chair for wiggly feet!
Standing on wiggle cushion and drawing on a window
Standing on wiggle cushion and tracing mazes made from highlighter and paper
Tongs to move small manipulatives and stack them and sort!
Tongs to dig out small beads in theraputty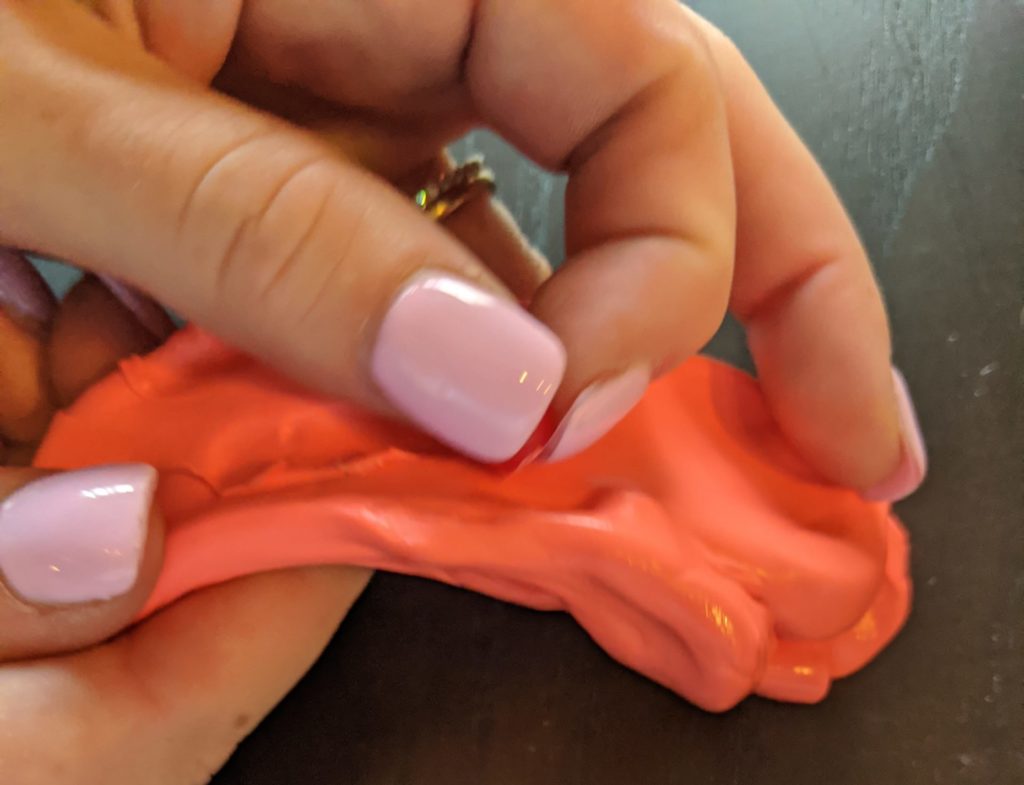 Theraputty and beads for hiding and digging out
Theraputty for hand exercises.
Theraputty for rolling cookies, pancakes, snowmen.
Theraputty for extra reinforcement around pencil for grip.
Whiteboard and markers and draw verbal step by step instructions
Wipe, trace, try approach on whiteboard for handwriting letters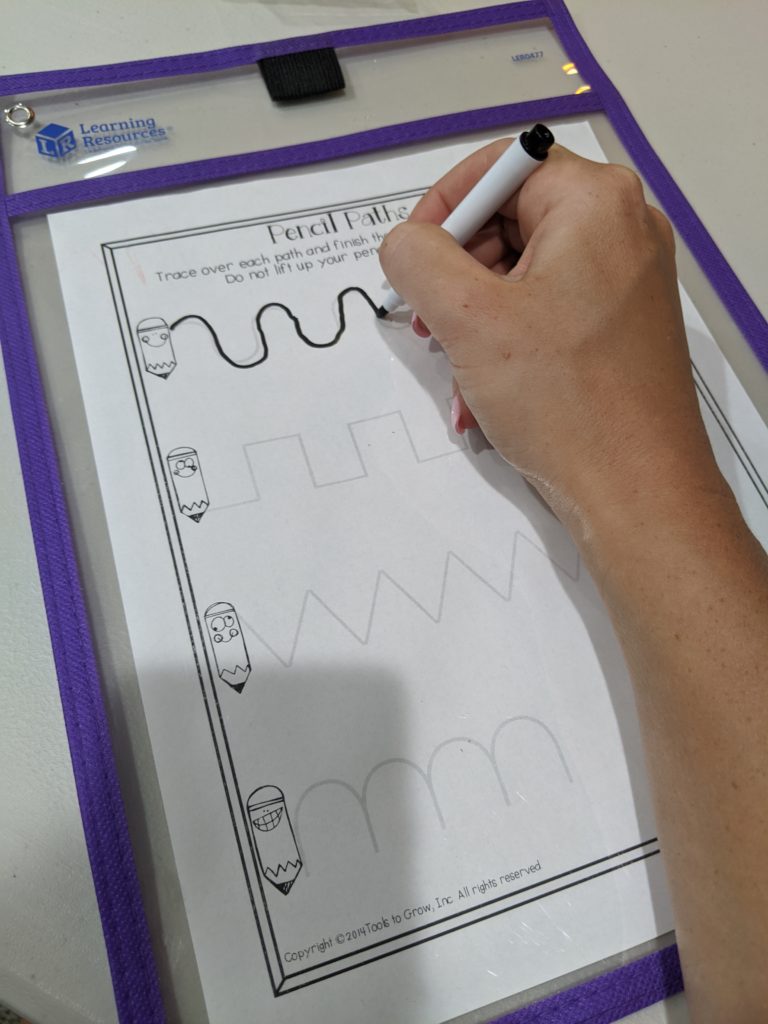 Sort them by size, color, type, etc
Work on in-hand manipulation skills – translation, side hand separation, etc.
Refine pincer grasp by placing them through small openings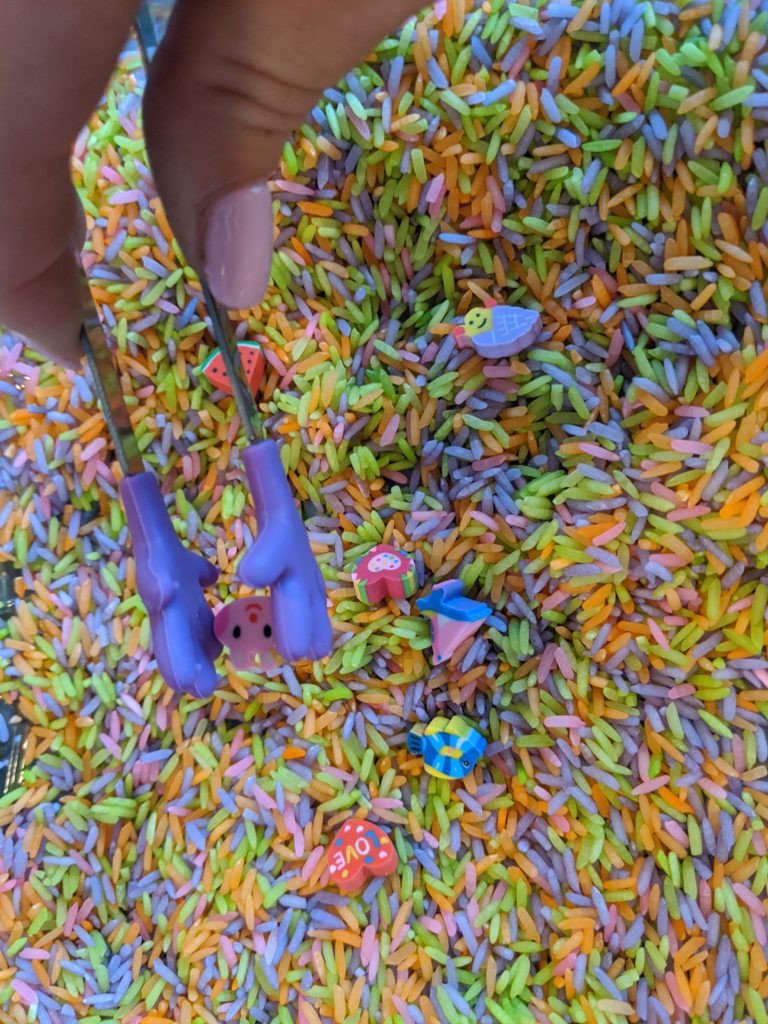 11. Sensory Bin (rice, pom poms, sand, etc.)
Find small manipulatives
Work on tactile processing and discrimination
Help with self-regulation
Hang racketball from a doorway for batting back and forth
String beads
Wind around pencil or stylus
Tangram booklet for completing puzzles
Recreating puzzle from visual-memory once shown a puzzle
Creating a puzzle and then providing step by step instructions for someone else to recreate it
Tangram for being shown a puzzle piece, animal crawling to the other side of the room to retrieve that piece from a pile.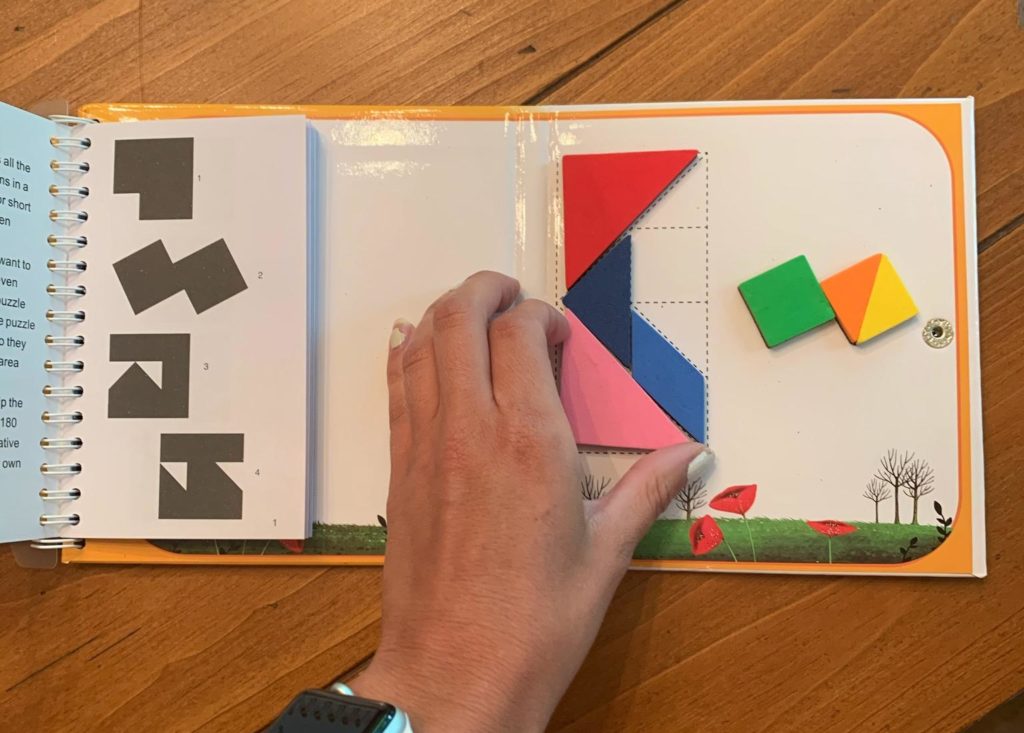 Stylus to use with handwriting apps on phone or tablet. Only can play on the tablet if using the stylus for pencil grasp practice and precision. Similar force modulation as using an eraser.
Weighted lap pad (1-2 lbs) for a tactile reminder to stay seated, for calming, and for deep pressure input. Weighted lap pad can be draped over the forearm when writing to work on forearm stabilization.
Thank you, OT for Me Box for offering a variety of therapeutic uses for these items.
---