10 Tried & True Favorites
Here are 10 games for handwriting practice. They are semi-sorted by age appropriateness from youngest to oldest while attempting to factor in the complexity of each game and the ability to adjust the amount of writing required.
It's quite easy and there are no rules for transforming games into handwriting games. Just use your common sense and find ways that motivate your child. I will include some of my preferred ways but don't feel restricted by them in any way.
This is a fun and simple preschool game…so I recommend keeping it that way for the littles. Do not force children under 4 to work on letter formation or sizing unless it is something they get enjoyment out of. Those things come in time (aka developmentally) when appropriate.
That being said, I put this one on the list because I still have a bunch of K/1st kids that love this game. At this age, the expectation is simply having the kiddo copy the word as they see it on the tile typically focusing on formation or appropriate sizing.
One tip I have (coming in another post soon) is having your child near point copy the letter/word/sentence from a card or piece of the game; unless of course part of what they are working on is letter recall, spelling, or switching the casing from upper to lower case.
That being said, keep a whiteboard and marker handy for when the games use goofy fonts that your child has trouble identifying.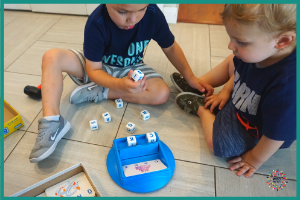 So many fine motor skills naturally required in this game: developing palmer arches by shaking the dice (great post here where I share why I love dice games and in-hand manipulation skills by rotating dice in their fingers as well as visual perceptual skills such as visual discrimination and spatial orientation.
This game is great for practicing uppercase letter formation.
3. Memory (or Matching Game as it now goes by)
This is a go-to game that motivates the most reluctant of writers because there seem to be unlimited versions of it: Moana, Marvel Superheros, PJ Masks, Curious George, Frozen, Dr. Seuss, the Hungry Caterpillar, Disney Princess, Toy Story, Emojis, NFL teams, Minions, Peppa Pig, Paw Patrol, Cars…something for everyone.
You could also DIY a version of your child's favorite characters by finding pictures, using a legible font in the casing you want to target, print/cut them out on cardstock, and laminate (optional step)! They will play it over and over again.
Other skills I love about this game: fine motor development, visual discrimination, matching, memory, motor planning, strategy, deductive reasoning, etc.
This classic will never go out of style. It's easy to have kids write the colors or characters (Mr. Mint, Gramma Nutt, Princess Lolly) on each turn. I sometimes challenge them to write the color in a different color than what's showing on the card they picked (ex: use blue to write orange) BOOM…next level stuff right there!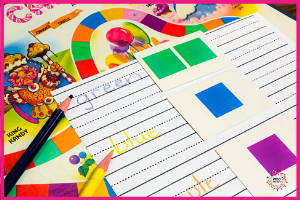 This one takes some one-time effort to set-up but it's definitely time well spent! I've adapted so many Jenga sets over the years; each one is a little different.
Write 1 word on the wider sides, with the corresponding uppercase and lowercase letters on the narrower sides. This allows the game to be ready for a child at any stage of handwriting development.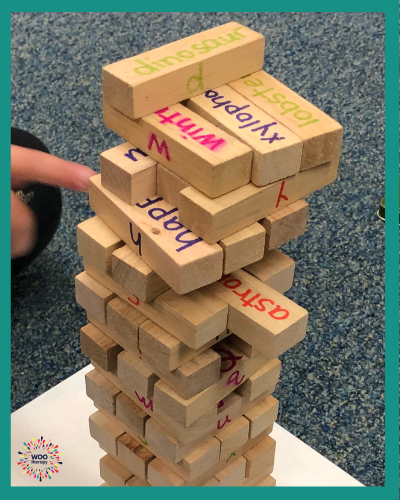 You can focus on formation of single letters, all the way up to having a student self-generate a sentence using the word on the block.
Teachers, it might be great to adapt several versions of Jenga to include high-frequency words, sight words, blends, vowel pairings, R controlled words, etc. By turning Jenga into a spelling game, you help students create neural pathways and boost their memory.
Parents, this is a great game-based way to support your child with any specific spelling patterns needing more practice.
The "clean-up" is actually my favorite part of this game, even though it doesn't include handwriting. But all the incredible ideation, motor planning, grading of force, visual discrimination, spatial orientation skills, etc. are so good!
The scanning, tracking, and strategic components plus required fine motor skills would typically place this near the top based on personal preference, but because not all kids have those skills yet, it slid down the list a bit.
Also…there's so much to love about working on a vertical surface!
As for incorporating writing, you can have them write the coordinates, color in the coordinates on graph paper, or teach them the military alphabet (Alpha, Bravo, Charlie, etc.) and write those corresponding words with the number.
Another game that comes in a bunch of versions – I have the original and Shrek versions, but the Star Wars-Chewbacca and Finding Dory ones have been on my wish list for a few years.
I have to say I'm not a fan of pressing the nose to listen for the sound of the body part, instead of the true Original version where you drew a card (which was super easy to turn into a handwriting game) but, I'm adapting because I totally appreciate the auditory discrimination component they've worked in. 🙂 The child can still easily copy the words from the list provided on the instructions.
Aside from handwriting, Operation requires fine motor precision, visual perception, grading of force to pick up small items with the tongs, scanning, spatial relations, body awareness/concepts, and auditory/tactile feedback on performance.
I. LOVE. IT!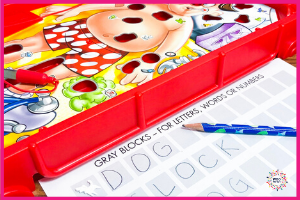 Add this to great games for handwriting practice! It uses a dice (WOO!) and naturally requires handwriting to play. However, if you're targeting legibility, sizing, placement, etc. I'd probably eliminate the timed component of the game to decrease any anxious feelings about finishing in time. Otherwise, in my opinion, it seems to defeat the purpose of using it to support handwriting improvements.
Also, the Junior version has more relatable categories if you have it.
This game challenges visual discrimination, scanning, deductive reasoning, process of elimination, index/finger isolation (to tap down each person) individually, spatial/body awareness to not knock over doors that need to stay open.
Simply have the child write down their yes or no question before you answer. Adapt it slightly more if you're practicing writing at the word level to target the single attribute they are requesting: Man? Glasses? Bald?
Another game in a ton of motivating versions: Disney characters, Dory, Disney Princesses, Disney Cars, Star Wars, Marvel Superheroes, Trolls, World Fútbol players, etc.
Sadly, I think Guess Where is no longer available but I put it on the list in case you have it already. These are two great games for handwriting practice.
10. Clue or Clue Jr.: Classic Mystery Game
I have several high-cog kids I work with, who understand the strategy and deductive reasoning required for this game. By "allowing them" (wink, wink) to turn it into a handwriting game and write down the accusations, it supports their ability to strategize all the better.
WARNING: The Harry Potter version is unnecessarily complicated! Not suitable for kids under 12. We played with 5 adults and it was a doozy.
I hope you've gotten some great ideas and are already thinking of how you can use some of your existing games for handwriting practice this week.
If you try other games that your kids love, please leave them in the comments section for others to find.
This blog contains affiliate links for products and activities I love and want to share with you. I may receive a small commission on any purchases you make through the links. Please read my disclosure policy for more details.