Get Rollin'
Are you pumped to get your child engaged with activities involving dice after reading my post on The Notorious D.I.E? Have you been searching your house up and down for a pair? Still coming up short? No prob!
I have a few simple suggestions for you (ehmmm, your child!) to D.I.Y. your own dice. It will be way more fun, personalized, and productive too! Oh…and if you haven't read The Notorious D.I.E. I highly suggest you do, then hurry back to make your own!
Google it!
Isn't that the answer to everything?! But for real, it is! You can quickly and easily find dozens of templates just by googling "dice template". Most of them already have dots or numerals, and some are blank. My preference is the blank one! This is because you and your child can get creative and put ANYTHING on the sides. Want to practice spelling words? Easy. Need to master multiplication facts? Perfect. Trying to make chores fun? Look no further. You get the idea!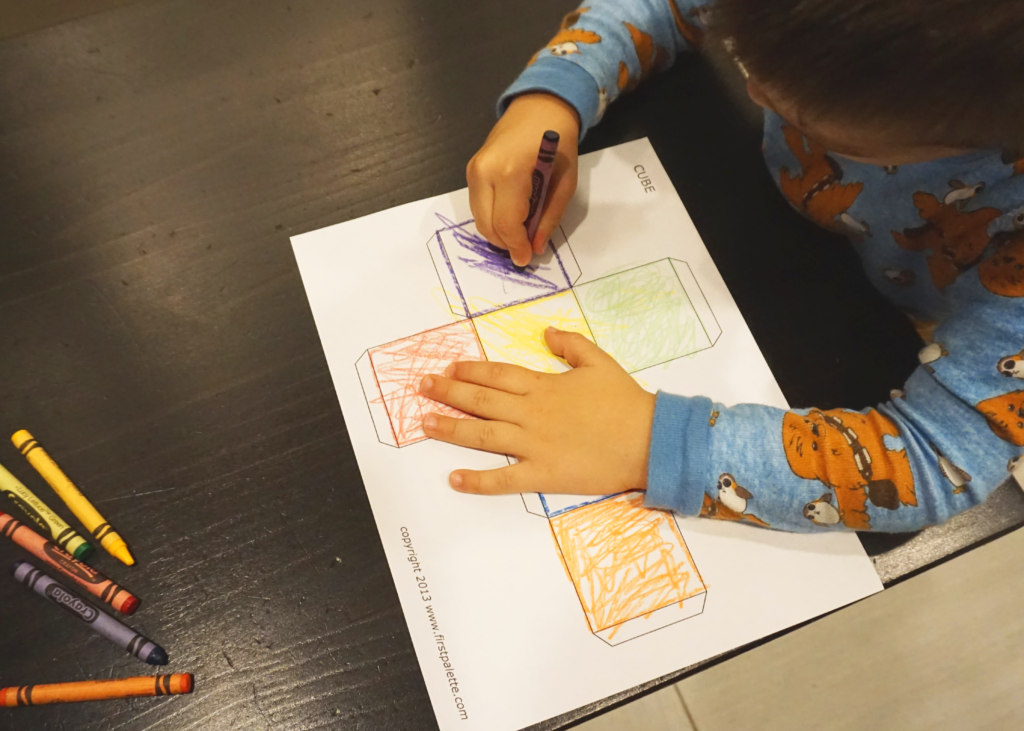 The bonus with this method is your child gets practice with fine motor precision by coloring each side a different color, visual motor skills to cut it out, and motor planning + bilateral coordination to fold and tape it all together.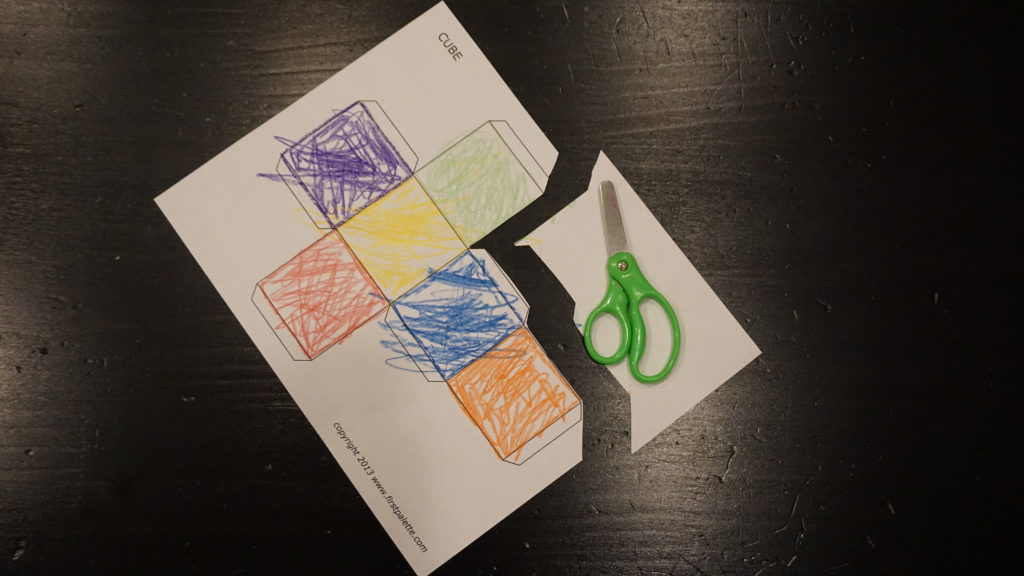 Warning: a 4-year old will need quite a bit of help with this! But if your child finds a 6-sided die too easy, google '12-sided die' and go ahead and see if he can construct that one!
If printing it is not an option (because you are constantly running out of printer ink like me), don't fear…there is another solution.
Wrap it up
Find an unused box or Rubix cube, some blank construction or wrapping paper, scissors, and tape. You'll want to make sure it has 6 equal sides and not weighted in the middle so it works just like a non-bias die. I love this idea too because your child can practice wrapping it like a gift (WOO…more motor planning and bilateral coordination practice!). Plus, once he gets the hang of it, you can recruit him to help with the Christmas wrapping next year!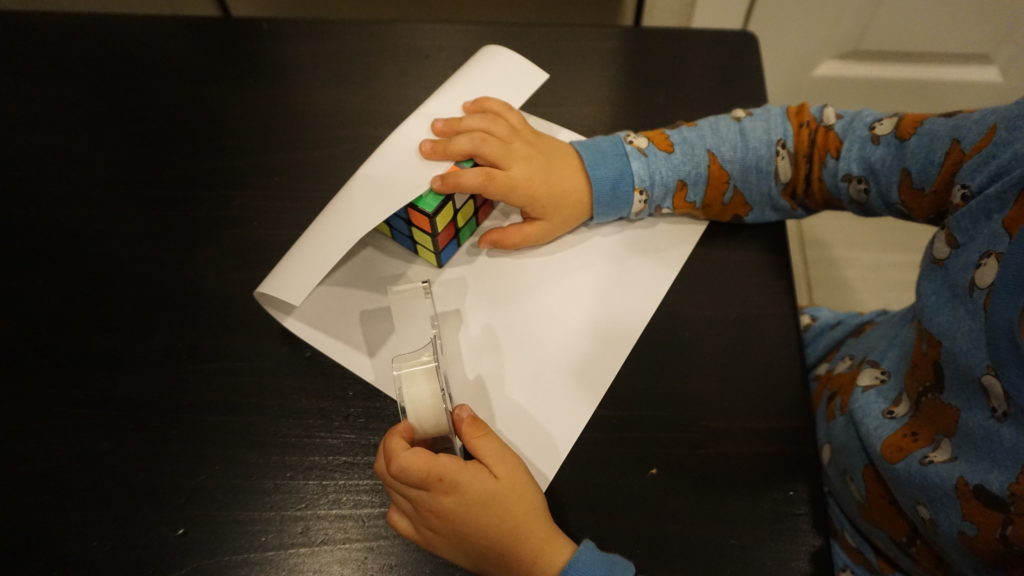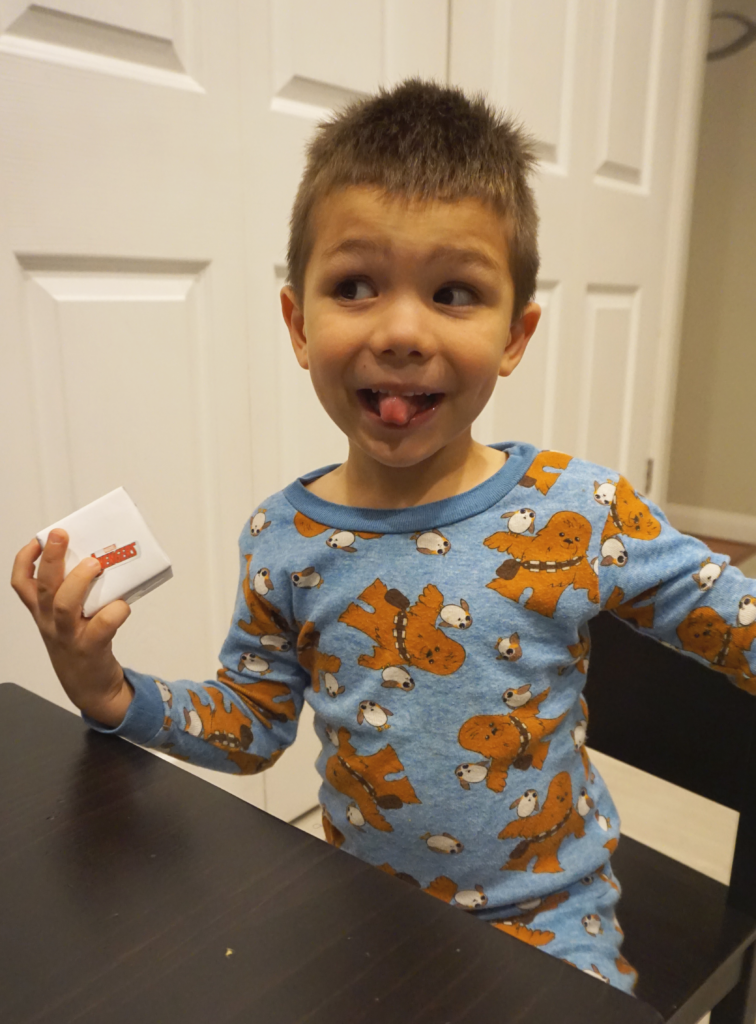 Once it's covered on all sides, he'll be able to label it any way he wants or can dream up. Maybe he'll place animal stickers on each side to use it as a locomotor die (ex: kangaroo=hopping, snake=slither, crab=walk on all fours with tummy up, etc.), or if he can't choose just ONE friend to bring to the park he can write each one's name on one side and give it a lucky roll! The best part, it can be rewrapped again and again as the needs change.
TIP TO PARENTS: Don't forget where you put your Rubix cube…you don't wanna get rusty on those cube algorithms, am I right? 🙂
I like big boxes, and I cannot lie
Finally, if you're looking for full-sized fun, you can go check out this post by The Craft Train for a step by step on how to make a giant die.
No matter what, have fun and be creative! Leave a comment on what you came up with or let us know if you have another idea on how to D.I.Y. a die.
This blog contains affiliate links for products and activities I love and want to share with you. I may receive commissions on any purchases you make through the links. Please read my disclosure policy for more details.