Hey there! I'm Cait the COTA, a school-based COTA from the Mitten state (MI). I am mama to two sweet littles who can usually be found drinking iced coffee. I love finding good deals, creating for my Teachers Pay Teachers store, and organizing ALLLL the things. My favorite part of OT is the relationships I build with my students. I feel like I get to play all day while helping my students reach their goals! I love the look of pride and accomplishment on their faces when a skill "clicks". I have my dream job and am thankful every day for the opportunity to do what I do.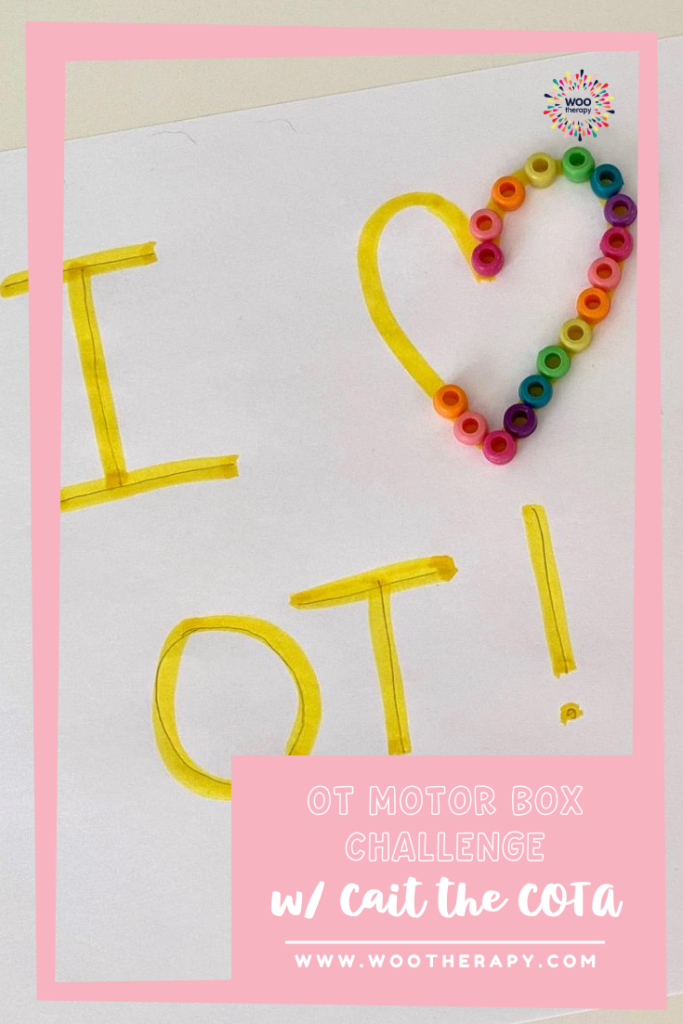 Cait the COTA Challenge Items
Use to improve arm and shoulder strength by pulling in various directions.
Lay it flat on the floor and walk heel to toe trying to stay on the band.
Lay it flat on the floor and hop over with only foot and with both feet.
Lay it flat on the floor and bear walk sideways keeping hands on the band and knees off the floor.
Use them to form letters, numbers, or shapes.
Use them as a boundary when writing if a student has a problem with letter sizing or placement.
Create "roads" for students to draw within. Make easier by increasing the width of the road, or more challenging by decreasing the width.
String beads onto them and shape them into "inchworms". Try copying patterns.
3. Pennies
Feed them to the tennis ball mouth.
Hide them in putty.
Play tic tac toe as heads vs. tails instead of X vs. O.
Arrange them on a table, put a piece of paper over, and rub a crayon over to reveal the pennies.
Start with all pennies face up, flip face down, and then back up- make it a race!
Lay pennies out on a table. Pick them up one at a time using only one hand until all are picked up. Then lay them back down one at a time.
Tuck a penny under ring finger/pinky when writing to promote a tripod grasp.
Create letters, numbers, or shapes.
Make push pin art by poking holes in a pattern on a piece of paper.
Draw 2 trails of circles on a piece of paper, roll a dice and put in that number of push pins into a trail. The first person to the finish line wins!
String rubber bands between push pins
Don't have foam or cork to push into? Use a cardboard box. Write & draw…obviously! 🙂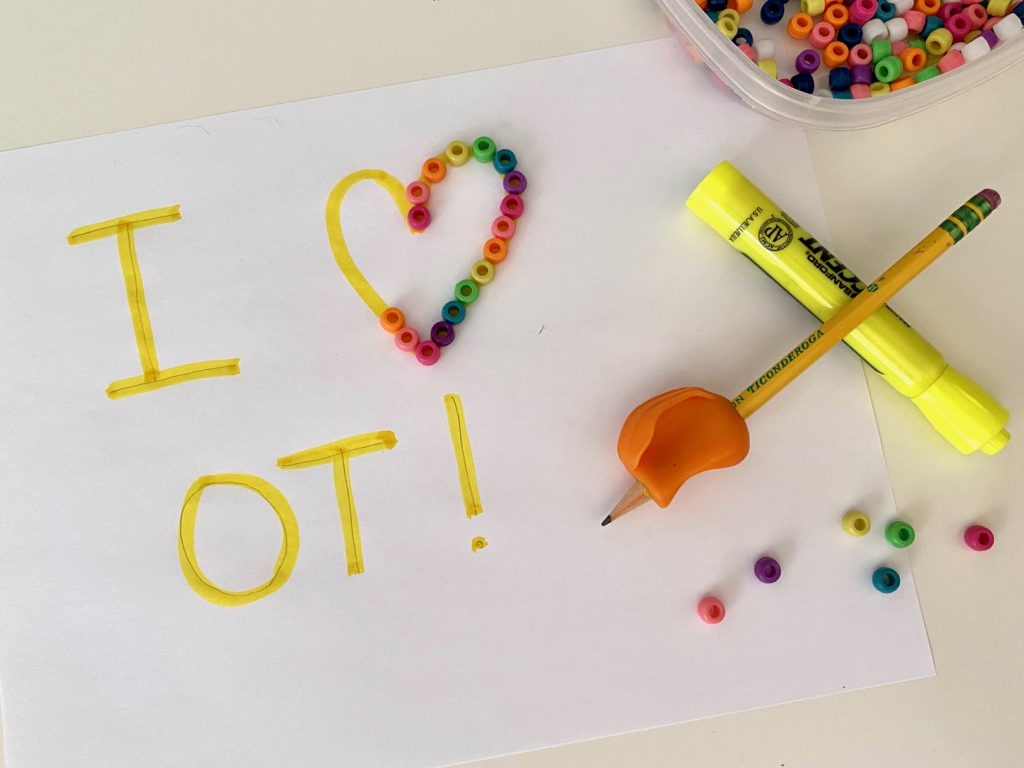 Draw a crazy line on a piece of paper to make an "obstacle course". Trace the line with a pencil or crayon.
Draw shapes or letters and then trace with a pencil or crayon.
Make several dots or stars all over a piece of paper. Pick up beads with a clothespin and place them on the marks.
Pick up beads, broken crayons, or crumpled pieces of paper and put them into a container.
Try squeezing the clothespin with your thumb and pointer finger, thumb and middle finger, thumb and ring finger, and thumb and pinky finger.
Start with pieces laying face down on the table, flip them over and then put them together.
Try completing the puzzle while laying on your belly.
Hide pieces (or maybe just the final piece!) around the room and then put them together.
Put paper clips on a few pieces and place them on the floor. Use the finger wind up to pick them up.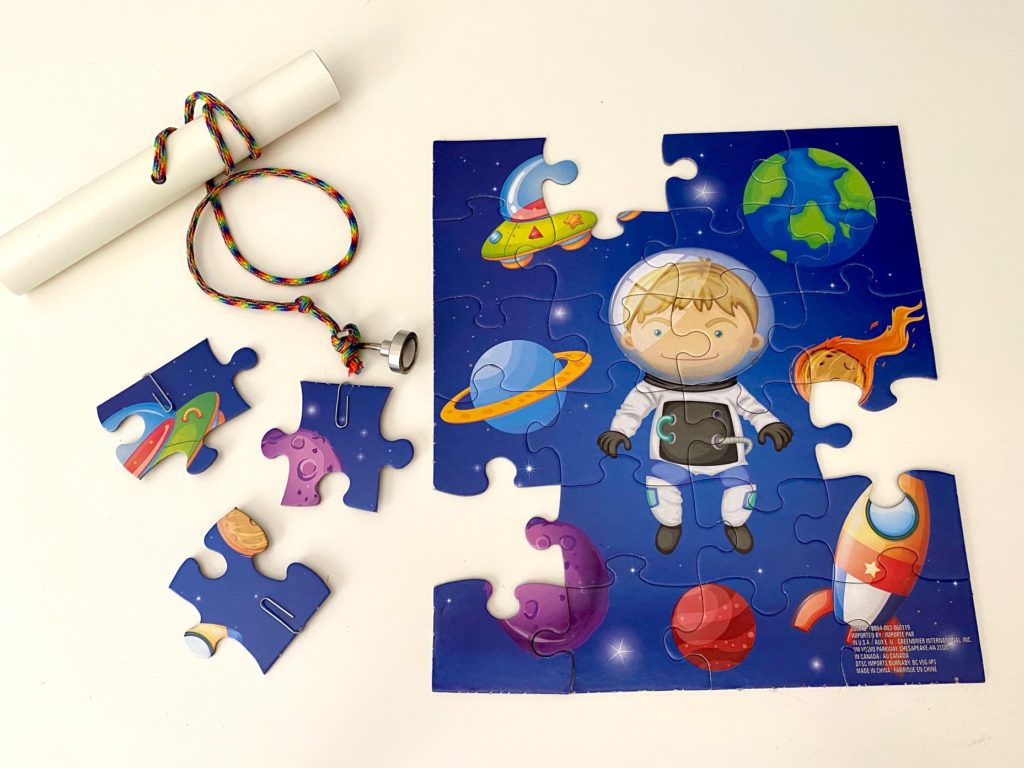 8. Finger wind-up (PVC pipe + string + hook magnet)
Pick up puzzle pieces (see above!)
Write words or sentences on pieces of paper. Fold up the paper, attach a paper clip, and scatter the papers on the floor. Use the wind up to pick a piece of paper and copy what is written on it.
Draw pictures of fish and cut them out. Attach a paper clip to each fish and scatter them on the floor. Then go "fishing" with the wind-up.
Use the wind up while standing on an uneven surface.
Write a letter/word on each side of the cube, roll the cube and write the letter/word it lands on.
Write a number on each side of the cube and use it to determine number of reps for an exercise.
Write an exercise on each side of the cube, roll the cube, and complete the exercise it lands on.
Write an animal walk or movement on each side of the cube, roll the cube prior to a transition and move from one place to the next using the walk/movement that was rolled.
Feed him beads, crumpled up pieces of paper, coins, cereal, etc. by squeezing the mouth open with one hand and using the other hand to pick up the small objects.
For an added challenge, use a clothespin to pick up the small objects and put them into the tennis ball mouth.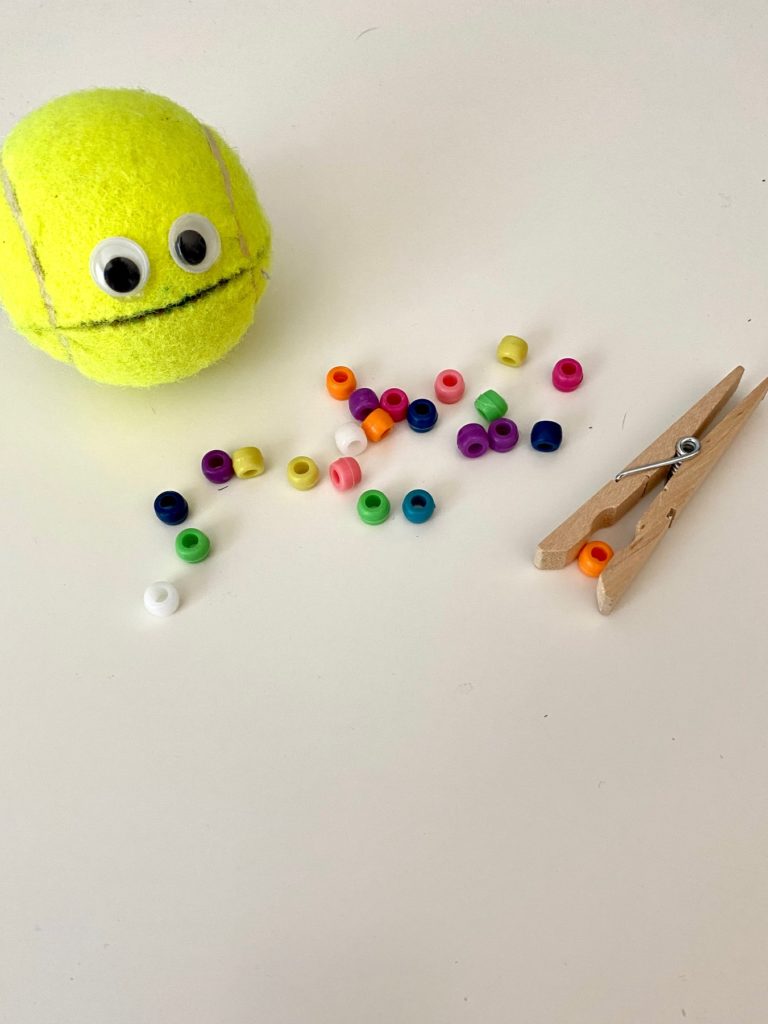 Hide beads in putty. Once found, hide them back in again.
Roll putty into a long snake. Use scissors to cut into pieces. Pick up pieces using only one hand and squish them into one big ball.
Straighten paper clips and put them into the putty to create a turkey. Decorate the "feathers" by putting beads onto the paper clips.
Flatten like a pancake, then roll like a burrito.
Attach to puzzle pieces to use with the finger wind up.
Straighten and put into putty as turkey feathers.
While in original shape, fill with beads.
Straighten and bend to form shapes or letters.
Use as a writing utensil in putty.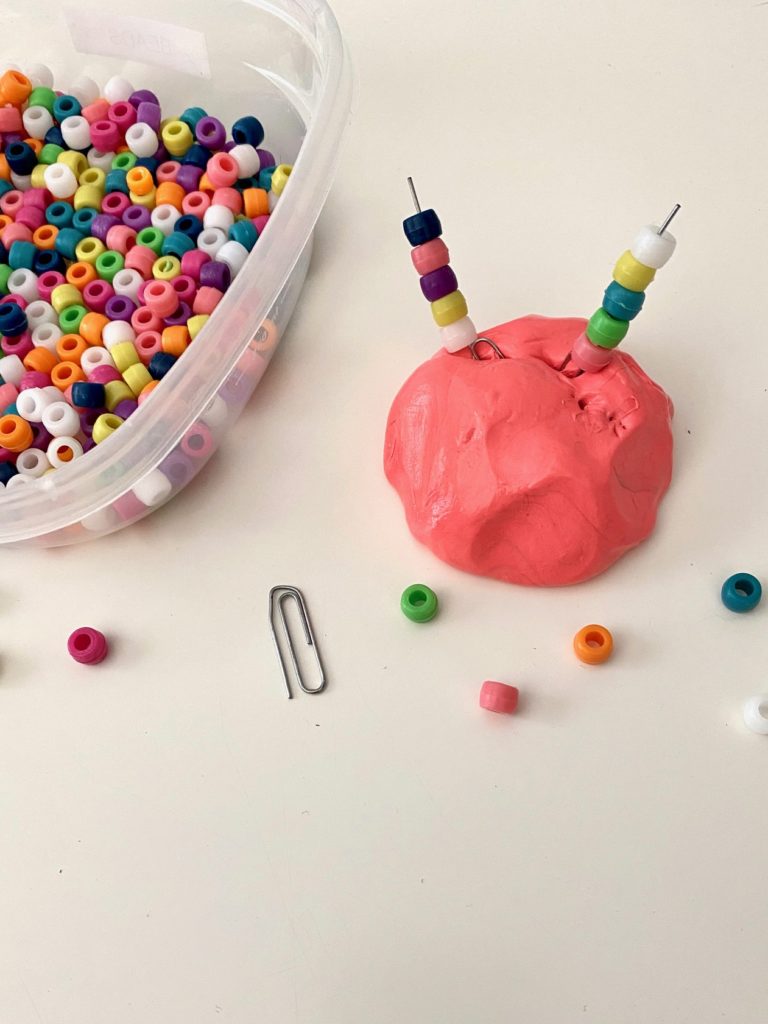 Feed to the tennis ball mouth.
Hide in putty.
Make patterns on paper clips.
Pick up with a clothespin.
Use as a spacer when writing sentences.
Play one of the versions listed on the instructions. – Use pennies to cover matches- Vary the distance and direction of the cards when looking for matches to promote oculomotor skills. – Tape up 2 cards. Identify matches by placing left finger on right card, and right finger on left card. – After a match has been identified, clip them together with a clothespin
Use as alternative seating option.
Sit and bounce.
Lay on your belly and walk your hands out as far as you can, then walk them back in all while keeping your feet off the ground.
Roll along an imaginary road on the wall. Roll high above your head, low towards the ground, and side to side.
Stand back to back with a partner and pass the ball back and forth by twisting side to side.
"Steamroller"- an adult firmly but carefully rolls the ball up and down a child's back and legs while he or she is laying in prone.
Thank you, Cait the COTA, for bringing your heart and creativity to this OT Kit Challenge 🙂
---