7 Ways to Make Old Crayons New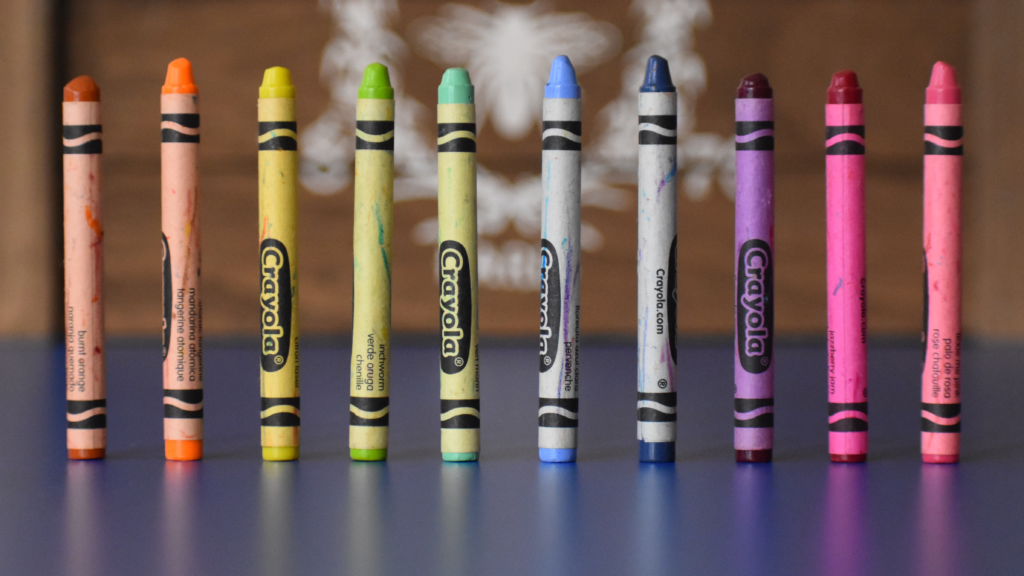 You guys, did you know broken crayons still color?!
I love Mother Earth and want to protect her in any way I can! And naturally "when you know better, you do better." So, two years ago when I saw a video about how harmful plastic straws were for sea turtles (and other species), I became incredibly conscious about avoiding single-use plastic.
And just a few months ago, I read the staggering statistic that "more than a half-million pounds of crayons are discarded every year, turning into a waxy sludge that clogs our landfills (taken from The Crayon Initiative). 🙁 Some crayons are never even used before they are tossed in the trash (think of the ones your kid gets at a restaurant for their word search and tic tac toe games). Worst of all, they are NOT biodegradable. What a bummer for all of us!
With that being said, how many of you make sure your child comes home on the last day of school with as many of those crayons you purchased for them at the start of the year.
"Bring home all your crayons so you have them for the first day of school next year." -said no parent ever!
Since a 24 count of band new Crayola's cost only $1.39 and 120 bright, beautiful colors only $6.99, you likely weren't expecting your child to come home with their crayons this year. I couldn't let all those crayons end up in a landfill so I took up an end of the year Crayon Collection and look what my amazing colleagues came up with! WHOA!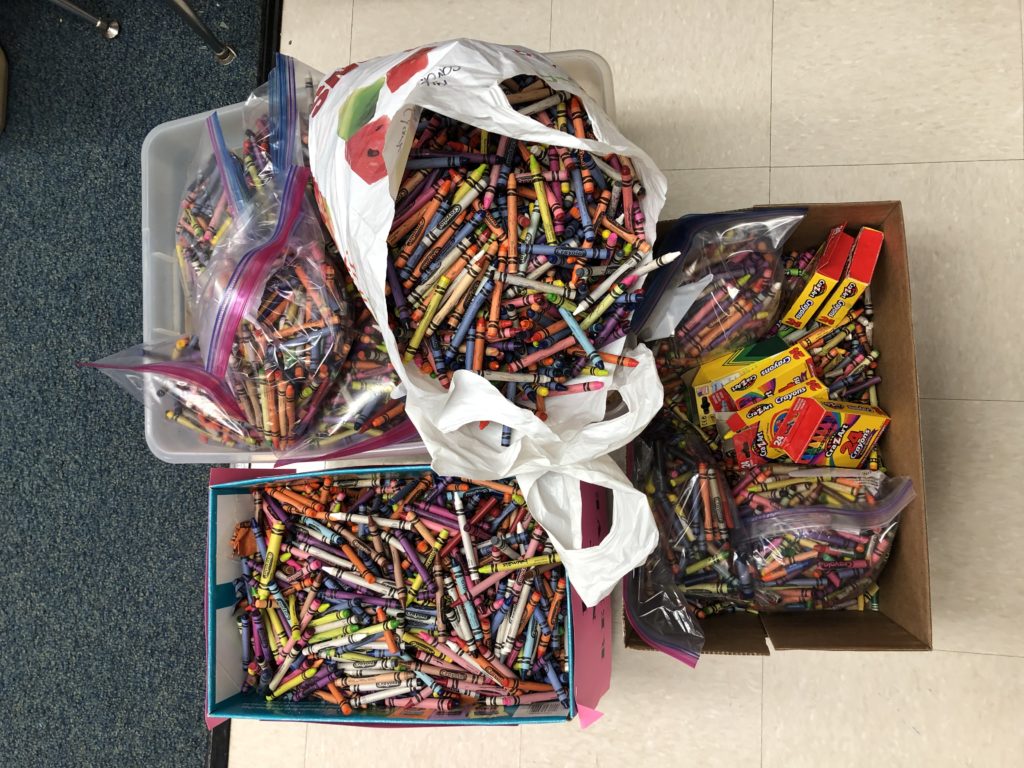 But look closer—so many of them still have pointy tips!
Certainly, I'm realistic in knowing I won't convince many of you to have your child reuse their 1st-grade crayons in 2nd grade. But could I possibly convince you to keep them and find new uses for them? It seems pretty obvious but I'm gonna go ahead and put it out there.
Did you know broken crayons still color?! And as you can see, most of the ones I got, aren't even broken.
Here are 7 ways to make old crayons new offering abundant creativity, reckless imagination, and essential individuality:
1. Continue to color with them (even if they are little nubs)!!
What. A. Concept. Small, broken crayons are actually better for little developing hands. Little developing hands lacking strength and coordination that clench tightly onto a full-sized crayon. Little developing hands needing guidance and support through a new, uncomfortable way of coloring in order to get better. A smaller crayon naturally facilitates a more mature grasp pattern by limiting the number of fingers your little one can get on there.
*Kindergarten teachers*…I beg and plead with you! Please stop requesting and using long, fat crayons with your sweet 5-year-olds! It only hinders those who haven't established a mature grasp pattern from building the muscles they need to get one.
2. Peel Them!
Use them as an opportunity for fine motor coordination and strengthening by having your child peel the crayons. Have contests…who can peel it in one piece first? Who can create the most scraps of paper—use it for New Year's Eve confetti?! Get creative!
3. Rub mystery objects
Remember those amazing rubbing plates from the '90s? I think my mom originally got mine from Tupperware. These ones by Roylco are a close second. I love to tape them to the wall to facilitate wrist extension and tactile feedback as kids excitedly rub to reveal a design! No rubbing plates? No problem! Leaves, coins, sandpaper, and even hot glue designs on paper are a great alternative. (Of course, let the glue cool before having your child attempt to rub them).
4. Use them as manipulatives
Crayons can be used to count, sort, measure, align from smallest to tallest, do math problems, or my favorite…rainbowtize them.
5. Melt them.
Make new crayons in your child's favorite shape or characters to get them more engaged. Mix several of the colors to keep them interested in coloring activities. Like these…
Using them in this compact form mimics the small, broken crayon concept. It allows only a few fingers to hold it, naturally encouraging a more functional grasp pattern.
6. Recycle them.
Not like at your local Aluminum can center but with The Crayon Initiative. They collect and remanufacture crayons to donate to sick children stuck in hospitals. How incredible is that!! Read more about the tragedy that is the "Life of a Crayon" at https://thecrayoninitiative.org
7. Reuse them!!
And finally, I'm just going to go for it! Maybe, just maybe I'll find someone that loves Mother Earth just as much as me. Can I possibly get one teacher to accept my REUSE THE CRAYONS CHALLENGE?! Could you cross a new box of crayons off of your school supply list?! And instead, take a collection of all your student's end of the year crayons and package them as a sweet gift like this for your new students in the fall?! Then you can have an amazing discussion with your class about our environment and not wasting or discarding something that is still so incredibly useful and beautiful!
I hope this article causes each of you to re-evaluate the ease of discarding fully functional crayons and encourages you to try one of my suggestions to extend the life of a beautiful crayon.
Leave a comment if you agree that broken crayons still color and you're in for the REUSE THE CRAYONS CHALLENGE! Finally, stay tuned for the fun plans I have for all these donated crayons I just scored. Aside from how awesome my future project is, I'm just ecstatic all these crayons didn't end up in a landfill!
This blog contains affiliate links for products and activities I love and want to share with you. I may receive commissions on any purchases you make through the links. Please read my disclosure policy for more details.