There are so many benefits of scooter boards along with a variety of activities and uses.
Most kids immediately gravitate towards them when they see them; especially once they know how to use them, all the ways they can use them, and the feedback they receive during and after using them!
Disclaimer: A variety of positions and uses will be suggested throughout this post. Please use caution, supervision, and support regarding how you allow your child to use a scooter board. As their parent (therapist or teacher), you know their abilities and limitations best. It is highly advised to enforce a strict rule of NO STANDING on the scooter board as the casters move 360° and can cause serious injury if used improperly. WooTherapy assumes no liability for injury or other damage caused during any scooter boarding activities mentioned in this post or otherwise.
The Benefits of Scooter Boarding
Safety Awareness
Since scooter boards can move in a variety of directions, kids will begin to assess and organize how their body impacts the movement of the board. As a result, there may be some unexpected or undesired outcomes based on them trialing different positions and challenging their skills.
Using language, demonstration, and role play to help your child process the possible risks of using a scooter board is STEP ONE.
Core and Upper Body Strengthening
Core strength is the foundation for any and all movement. Nearly any position on a scooter board will support core and upper extremity strengthening.
Here are some positions to try:
Prone (tummy down) – will work back-extensor muscles and the upper arms by challenging your child NOT to use their feet in this position
Supine (on the back) – pulling/holding a rope or hoop to self-propel or be pulled by a peer or adult. This is also a great position to push off a wall
Seated – co-contraction of the core is required to maintain an upright posture
Kneeling – requires even more co-contraction because the center of gravity is higher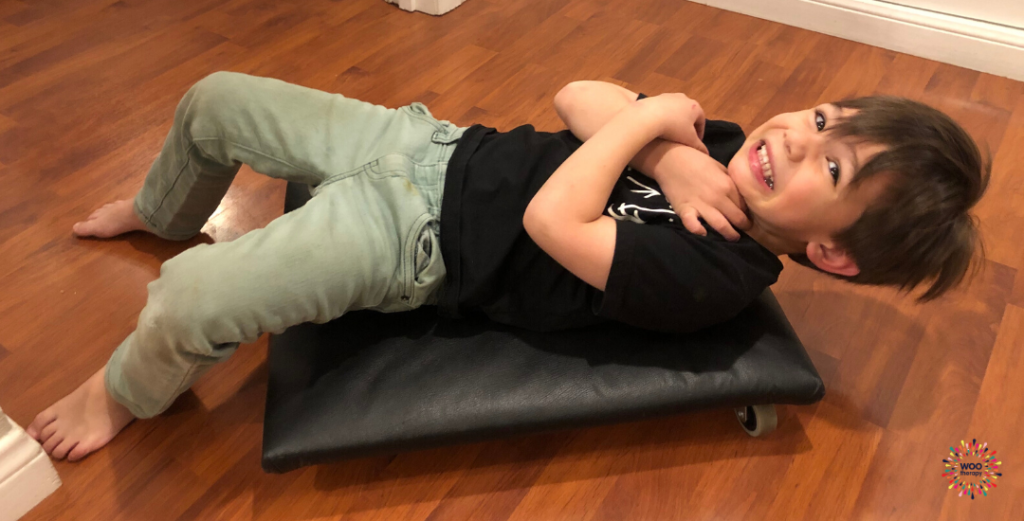 Bilateral Coordination
Many scooter board activities will require a child to use two sides of their body to complete a task whether it is
Two hands pulling a rope reciprocally
Two hands "walking" hand over hand on the ground or along the side of a table
One hand holding a bucket full of objects while another grabs and tosses a ball, ring, or bean bag at a target
One hand holding an object while the other hand pins it to a rope
Midline Crossing
This is naturally facilitated as a child participates in bilateral coordination tasks such as pulling a rope or reaching across the body (usually with the dominant hand) for objects placed on the opposite side of them. Midline crossing is important both physically and cognitively. Success with crossing midline indicates that the two sides of the brain are communicating to achieve the desired outcome. Using a scooter board offers abundant opportunities for this.
Trunk Rotation
This skill overlaps with midline crossing and core strengthening but is important in its own right. It improves balance, creates new synapse across the brain, and facilitates important stretching and abdominal strengthening. If your child demonstrates a clear dominance, they will likely have to rotate the trunk and shoulders as the hips remain stationary to retrieve objects within their path.
Motor Planning
There are many aspects of using a scooter board that require an original idea or plan of action.
Challenge your child to child figure out how many different ways they can mount/position their body to use the scooter board (**REMINDER: SCOOTER BOARDS ARE NOT INTENDED FOR STANDING)
See if they can generate an idea on how to propel it independently
What body parts can they use to move it – hands, feet, etc.
What objects can they use to move it – rope, dowel, the edge of a table, etc.
Following verbal commands such as "place the red bean bag in the blue bucket," "retrieve the bananas and feed them to the monkey", etc.
Timing and sequencing
Set up a ring toss or bean bag game with several cones or buckets. Push your child across a smooth surface and see how they determine the timing of the release based on the speed they are traveling. If they don't get it on the first try, watch how they adjust their release over the next several opportunities.
Proximal Joint Stability
This is simply the strength and stability of the muscles closest to the midline of the body – primarily the trunk/core, hips, and shoulders
Laying on a scooter board propelling forward with arms/hands requires the shoulder to gain strength and stabilize for successful movements further down the arm
If the child wants to lay on their back and propel with their legs/feet they need to find the strength and stability at their hips, possibly even getting in a bug-like position to push off a wall
Perhaps they've chosen to kneel to "row" or motor around a small table by gripping then they will have to stabilize all three muscle groups – trunk, hips, and shoulders
Balance/Posture/Co-contraction
As mentioned, each movement in a seated or kneeling position while being self-propelled or externally pushed/pulled requires a re-adjustment of their core positioning especially if you are unable to anticipate when you will start or stop. **The size of the scooter board is important—a larger board will provide more support and smaller one impacts the potential base of support and will require more balance and co-contraction
Hand Strength and Mobility
If they choose to use their hands to navigate around, all that input is strengthening their hands and fingers as well as working on the mobility of the joints in multiple ways
Generating enough pressure to push through the palm of their hand and through their fingertips to move the scooter board forwardàthis will also help with wrist extension
If they choose to pull a rope hand over hand this will target their overall grip strength for other tasks that require a power grasp
Your child may want to pull with their forearm rotated down (pronation) or rotated up (supination)…encourage the natural "forearm up" position as keeping their elbows next to their trunk it will give them more power and encourage proper shoulder positioning and muscle activation known as co-contraction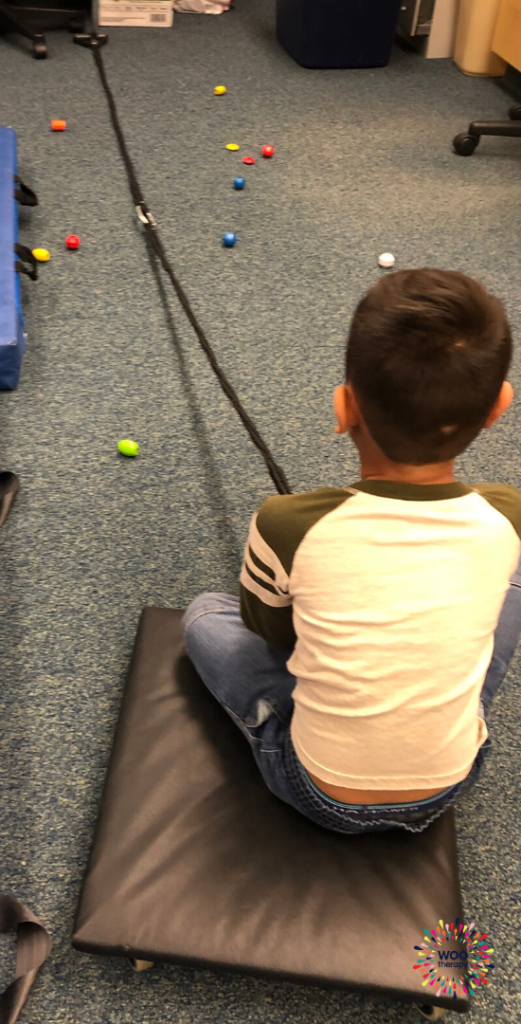 Heavy Work/Proprioceptive Input
With all the talk of strengthening it cannot be forgotten of the valuable heavy work and deep pressure that scooter boarding provides. This is a very calming input to the muscles and joints of the body. It also helps counteract the varying levels of vestibular input it provides.
Grading of Force
This is the sister to heavy work/proprioception. Repetitive actions such as pushing off a wall to knock down a tower of blocks or reaching a certain target can be re-adjusted through the muscles and joints based on whether the child was short of or overshot the target. This might require a verbal exchange with the child for them to process the feedback such as asking the child if they hit or missed their target and if they missed, were they short or did they go too far? Teach them if they need to use "more or less muscles."
Vestibular Input
Please don't get freaked out by this word! It is basically an add-on to the balance and posture idea. It simply refers to the body's response to movement. One's sense of equilibrium based on factors such as head positioning, external forces, and the visual information one's eyes are receiving. A majority of the time kids either love it or hate it. Using a scooter board to help a child process vestibular input is awesome because
The movement can and often should be self-generated; meaning a child only has to go at the speed/direction/position they are comfortable with. You will hopefully have fewer meltdowns by allowing them to be in control of how much or how little input they are getting – keep this in mind if they also struggle with swinging, rolling, sliding or the like
The heavy work of self-propulsion helps counterbalance the movement input and provides a grounding sensation to the body
It's easy to incorporate activities or verbal directions that help a child integrate the visuo-vestibular input allowing the body to better understand what certain movement sensations are, how they affect their body and an idea or plan on how they can avoid or replicate that sensation based on their reaction to it
Spatial Relations/Body Awareness
Can your child figure out where their body is in relation to you or other objects? Can they navigate through, in or around them without bumping into them or knocking them down? As a test, set up a few cones and see if they can weave through them without bumping into them.
Laterality/Directionality
Does your child understand his right from his left? Can they understand the world around them based on these terms? Or is it even developmentally/age-appropriate? Scooter boards are a great opportunity to support your kiddo through this life skill.
Give them instructions to move 4 pulls forward then turn right. Push 2 times backward then turn left, etc.
Speech/Language Concepts/Following Directions
It's fun and easy to integrate a lot of language into scooter boarding. "Wow, you went fast/slow!" "Pull yourself past the blue cone." "Propel yourself under the rope." "Throw the red bean bag in the purple bucket."
It's amazing that such a simple object not only provides hours of fun and creativity but also helps a child develop in a variety of areas just through play.
As you can tell by this exhaustive list, the benefits of scooter boards are endless. Have FUN!
---
10 Awesome Scooter Board Activities for Kids
The Benefits of Working on a Vertical Surface