As an OT, there are basic pre-requisite skills I look for when handwriting concerns are brought to my attention.
Many of these skills require an adult to observe, adjust, and help create the optimal workspace for the child(ren). Other skills may require a bit of prompting until they become more ingrained. All basics discussed should be integrated early and often to creates awareness and automaticity for independent implementation.
It all starts with proper positioning.
Chair Size
Be sure the chair is an appropriate size for the child. The feet should be flat on the floor or adequately supported by external supports such as a footstool, foot pedals or a stack of books. This allows a child to gain feedback from the ground, provides a better understanding of where their body is in space, minimizes wiggliness, and allows them to make postural adjustments independently.
Desk Size
Be sure the desk is an appropriate size for the child. The child's chair and legs should fit completely under the table/desk +2 inches, with their elbows resting comfortably on the surface. If the desk is too high, a student may develop an awkward and inefficient grasp pattern as a result of not being able to properly stabilize their forearm on the desk.
Not all children are the same size, so it is critical to look at each child's set up individually and make the proper adjustments. This goes for anywhere the child is required to perform written work, both at home and school.
Be mindful of re-assessing each child's needs several times throughout the year as they grow.
Physical Seating Arrangements
Make sure no children are bumping elbows based on their handedness. Place lefties at the end of the row or next to another lefty.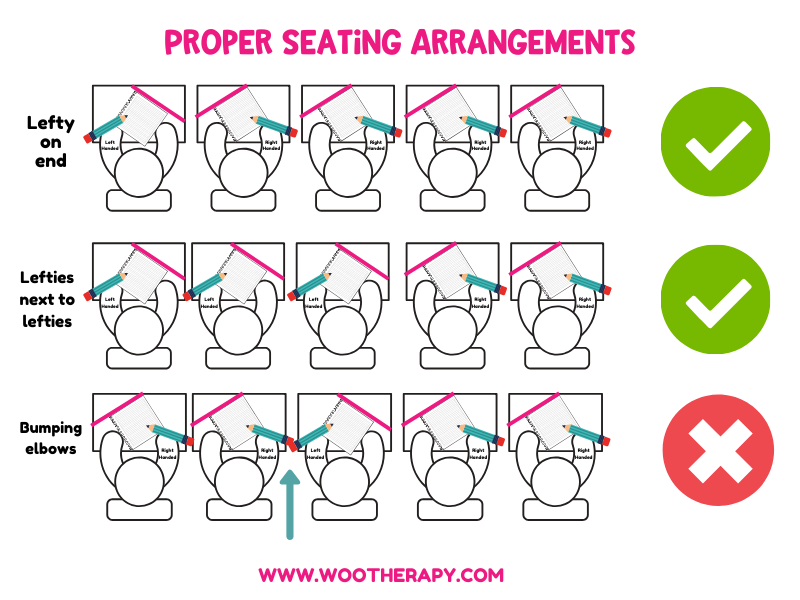 Encourage Forearm Stabilization
Forearm stabilization refers to a child's dominant arm resting firmly on the writing surface. This facilitates the proper wrist extension required for a mature grasp pattern. If this is difficult to achieve, refer back to "Desk Size".
If a child is not stabilizing independently AKA you observe a "floating arm", provide prompts as needed (visual, verbal, or tactile).
Bilateral Stabilization
Bilateral stabilization is the non-dominant hand's ability to support a task. With writing, it refers to holding the paper firmly against the table to prevent it from sliding while writing. Use a verbal prompt of "helper hand" to encourage this until it becomes automatic.
You may also present before and after work samples of when they stabilize versus when they do not.
Paper Alignment
Worksheets, notebooks, paper, etc that require writing should be tilted approximately 35-45° away from the child's dominant hand (corner of their dominant hand is slightly higher).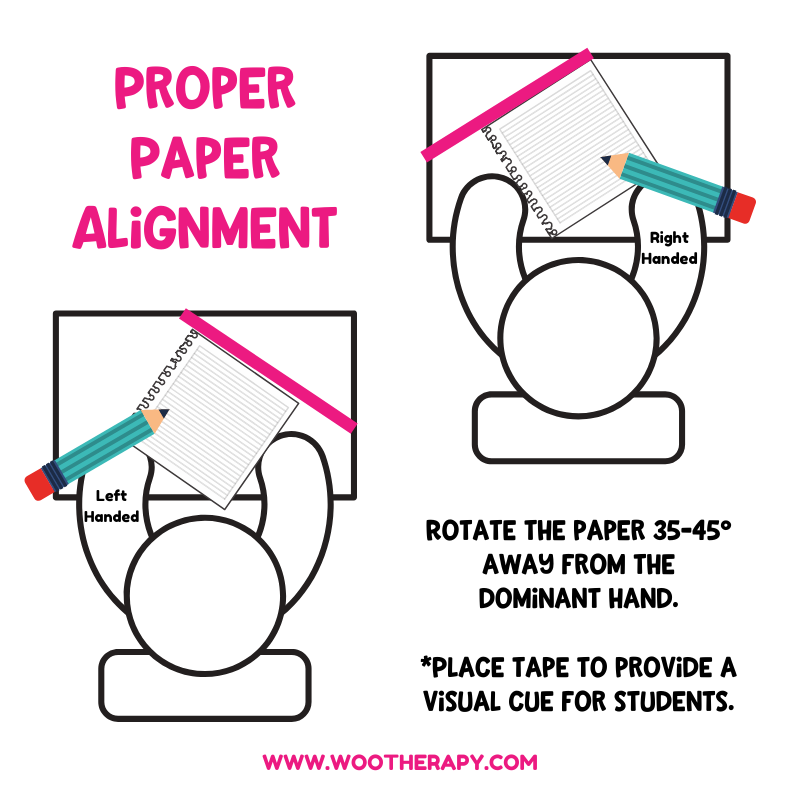 Clutter-Free Workspace
Clear the desk of unnecessary materials to avoid awkward or inefficient postures/positioning which could result in poor or illegible writing.
It also minimizes distractions for a more successful writing session.
Encourage a Dynamic Tripod Grasp
Continue to correct a child's grasp pattern with verbal or visual cues. Provide a pencil grip if necessary.
Recently, I have seen the most progress with The Claw Grip. The Claw eliminates the guesswork and facilitates a tripod grasp every time.
I hope you have success in supporting and implementing these basic skills for handwriting with your child or class in order to promote functional and legible handwriting.
For other articles related to handwriting, check out:
Handwriting: Tips & Tricks for Letter Sizing
Games for Handwriting Practice
Visual Boundaries: What's the Big Deal?
The Foundational Skills Needed for Handwriting Mechanics by Growing Hands on Kids